Education Success Stories
Meet our Education Alumni and Students
In the profiles below, meet undergraduate and graduate alumni and students from our various education programs. Our alumni and students talk about why they chose Point Park University and how earning or pursuing a degree is helping them reach their career goals.
Alumna Blog Post
Read the blog post "Why I Loved Getting My Master's from Point Park University" by School of Education online graduate program alumna Bethany Genchur.
Undergraduate
 
B.A. in Elementary Education, 2018
First Grade Teacher, Pembroke Lakes Elementary
"I loved how small the classes were and how I was able to really get to know all of my professors and classmates. This made a huge impact on my education — not making me feel like I was just another body. My professors were able to get to know me and help me throughout my time at Point Park."



B.A. in Instructional Studies, 2015
Owner/Director, Creative Community, LLC
"With my instructional studies degree, I was able to gain valuable knowledge in early childhood education and child development helping me to become director and owner of Creative Community, LLC. My classes in the program also prepared me with additional education in psychology, ethics, English language arts and understanding culture and diversity."
"During my time at Point Park, I had positive support from advisors, professors and others who advocated for my success and helped me achieve where I am today."


Dominique Furrowh
B.A. in Elementary Education with Special Education certification in Pre-K through Eighth Grade, 2017
Kindergarten Special Education Teacher, Brookside Elementary, Newark, Delaware
"Point Park helped me land these offers by preparing me both inside and outside of the classroom. Through classes, my professors shared their real-world experience and helped me get into schools early on to gain teaching practice."
"Also, I was part of an awesome Future Educators of America Club. Lastly, our amazing Career Development Center and faculty reviewed my resume many times until it was just right. They also supported me at the PERC Job Fair, where I received these job offers."



B.A. in Elementary Education, 2008
Sixth Grade English Teacher, Somerset Area School District
"I truly enjoyed being a teaching assistant for Dr. Darlene Marnich's University Experience class. I learned so much from her teaching techniques, and the opportunities she provided for me were extremely beneficial as a classroom teacher."

"I thoroughly loved my time as a Point Park University student. I learned so much from my professors, and all of the experiences I had helped shape me into the person and teacher I am today."


B.A. in Elementary Education, 2002
K-12 Curriculum, Assessment and Instruction Coordinator, Pittsburgh Public Schools
"My elementary education degree from Point Park University gave me the foundation for a wonderful career in education."

"The applicable lessons I learned as a student at Point Park contributed to my future success in education as a teacher's aide, a teacher, a principal and eventually, an administrator for the second largest school district in Pennsylvania. I am grateful for the education faculty as they were influential in my studies and dedicated to my success as a student."


B.A. in Instructional Studies, 2015
Agent, New York Life
"I chose Point Park for both the academic and athletic programs, the urban campus which guarantees endless possibilities, the intimate classroom settings and the University's overall welcoming environment."

"My education classes at Point Park gave me many experiences getting in front of a room of people to present or educate. I have far more confidence now than I did when I entered college. My business classes have given me a better understanding of the corporate and financial world, its elements and how I can push myself as well as my practice, to the next level."

 
Post-Baccalaureate B.S. in Secondary Education Biology, 2016
Scored in Top 15 Percent on Praxis® II Exam
"The education professors at Point Park really practice what they preach, so to speak. Last spring I had the opportunity to take educational psychology with Dr. Eric Stennett. He really opened my eyes to the cognitive research behind teaching techniques."

"I am not absolutely certain where I would like to teach but I am open to moving around the country. A part of me feels very strongly about supporting the public school system. However, I am also investigating different private school teaching opportunities as well."



B.A. in Elementary Education, 2011
Literacy Intervention/Science Teacher, D.C. Preparatory Academy
"Point Park's education professors really care about their students. Because the class sizes are smaller, they get to know you on a personal level and are there to help you out."

"Also, the professors put a lot of time into their students and their lessons. Their teaching plans were laid out thoughtfully, which turned out to be very helpful when you were ready to begin student teaching and pursuing a full-time teaching position."

B.A. in Elementary Education, 2010
Literacy Intervention/Science Teacher, D.C. Preparatory Academy
"My teaching career has been fast tracked largely because of the quality of the education program at Point Park University. The nature of my student teaching evaluations at Point Park gave me an edge over other first-year teachers and ultimately, led to the unlikely promotions and success of my first year."

"Not many people can hit the ground running on their first day in the real world. Point Park made sure I was ready to do so."



B.A. in Secondary Education (Mass Communication/English, 2013
Communications Teacher, Belle Vernon High School
"I love everything about broadcasting and video production but what I love more is being able to teach those skills to kids. In doing so, i have the best of both worlds and gain so much fulfillment in working with kids every day."

"I did my student teaching at Franklin Regional High School under Mrs. Becky Magness and had an incredible experience with the district and the kids. I learned so much there on how to teach lessons in my concentration and what it means to be a true educator."




B.A. in Secondary Education/English, 2010
English Teacher, Central Catholic High School
"My favorite experience as an education student at Point Park was student teaching. I was paired with the best supervisor ever to grace the halls of Point Park University, Mr. Feinert. Mr. Feinert taught me two of the most important lessons all educators must learn. First, how to properly write on a chalkboard;
and second, to always have a sense of humor."

"Without the guidance of my student teaching supervisor and the support from the education professors, I would have never achieved the level of excellence needed to be a part of Central Catholic High School."



B.A. in Secondary Education/English, 2008
English Teacher and Forensics Coach, Oakland Catholic High School
"I liked the environment of the campus. As a commuter student, I felt that the campus was easy to get to and offered a wide variety of opportunities and activities for all students. Additionally, the class sizes were just the right size - I liked being able to establish relationships with my fellow classmates and the feeling of camaraderie we shared within our classes with our professors."

"Trust in your skills — Point Park University does a wonderful job of preparing a student to teach, but the power to inspire, encourage and engage every student in your classroom is in your hands!"



B.A. in Elementary Education, 2007
Business and Math Teacher, Carson Middle School, North Allegheny School District
"The connections and references the education faculty at Point Park provided me were outstanding and really helped me. The numerous types of positions Point Park education alumni have always amazes me, too."

"Whether I was playing baseball or learning in the classroom, I will never forget the awesome personal relationships I formed at Point Park. The faculty treated you like a real person and always had your back. I'm not sure I would have had that kind of experience at a bigger school."





B.S. in Secondary Education English, 2009
English Teacher, Pittsburgh Taylor Allderdice High School

"Growing up in a rural town in Pennsylvania, I wanted to find an urban campus that offered access to successful professionals from the education field. When I visited Point Park for an open house, I fell in love with it because it is in the center of the city. My parents said, 'We can see you here.'"

"When I received an envelope in the mail with Point Park's letterhead on it, my emotions were overwhelming. I was accepted as a presidential scholar and on my way to my dream of becoming a teacher."



B.S. in Secondary Education Mathematics, 2012
Mathematics Teacher, Crestview High School

"I have always found joy in helping others and math has been a passion of mine since the third grade. I have made it a goal to make a positive impact on the lives of others, whether it is through mentoring people or striving to instill in them a love for mathematics. A career in education allows me to reach both aspects of that goal."

"Point Park offered small classes and opportunity. After receiving the Presidential Scholarship, it was clear that I was meant to be at Point Park."



B.A. in Instructional Studies, 2013
Teacher's Aide, Western Pennsylvania School for the Deaf

"I liked that Point Park is a private university with a small student-to-faculty ratio and that all of my credits from the Community College of Allegheny County were accepted. It's been a learning experience for me but I am definitely becoming a city girl."

"Point Park has helped to meet my needs by providing me with interpreters. The supportive services and tutoring center have helped me a lot. Also, Dr. Vincenne Revilla-Beltrán has been especially great. She knew what I needed from day one."


B.A. in English and Secondary Education, 2001
English Teacher, South Fayette High School
"Personally, I loved the idea that I could be close enough to my home that I could go there if I needed, but I was far enough away that I could live in the dorms and begin to grow as an individual. On top of that, I could live in Downtown Pittsburgh - Point Park was too good to pass up!"

"The education program was excellent; I had a wide array of classes that focused on both the theory and practicality of teaching, and my professors were so diverse that I was able to begin to see my future career from many different angles and consider what it truly meant to be a teacher."



B.A. in Elementary Education, 2012
Kindergarten Teacher, West Elementary School in Arcadia, Fla.

"Nothing can prepare you for the 'real world' completely but Point Park did a great job of giving me an educational background that made me feel confident about my level of knowledge and experience when I entered my career. The level of field experience I gained at Point Park gave me an excellent view on how various educational systems operate."

"My favorite part about teaching kindergarten is that every day is interesting and full of activity. I am always on my feet and being challenged on a daily basis. Students at this age are so eager to grow and learn and their lively spirits are contagious."



B.A. in Elementary Education, 2012
Fourth Grade Teacher, West Elementary School in Arcadia, Fla.
"I liked Point Park's small, intimate classes and the personable professors. I'm glad I stayed because I gained a lot of unique experiences at Point Park."

"Teaching is one of the most gratifying careers you can have. All the hard work you put into your lesson planning and teaching is evident when your students discover something new. An excited student is the best feeling in the world! There is nowhere else I'd rather be than in the classroom!"
B.A. in Instructional Studies, 2014
Counselor, Camp Deer Creek
"Choosing Point Park was very easy. I love being in the city. There is always something to do and always somewhere to go. As a Point Park student, I am lucky to have Pittsburgh be my campus. I am also lucky to be a part of such a great school with wonderful people."

"I knew the moment I stepped onto Point Park's campus that this school was for me. Walking into a classroom at Point Park is not intimidating. The environment is so welcoming."



B.A. in Elementary Education, 2012
Third Grade Teacher, West Elementary School in Arcadia, Fla.
"I am so thankful to professors like Dr. Suzanne Miller and Dr. Christal Chaney. They both gave me a practical look into education and allowed for first-hand experiences in their classes. Their knowledge was irreplaceable and they were both great inspirations. Another fantastic component of my education was my student teaching experience."
"College was such a great experience. I'm so glad I went to Point Park. I got a practical education and had so many fantastic experiences on the way!"
Graduate


M.A. in Curriculum and Instruction, 2016
Instructional Designer, Columbia University in the City of New York, School of Professional Studies

"Being that this graduate program focused on adult learning theories, the classes provided the foundations and research that I use in my job as an instructional designer every day. The rigor of Point Park's program, along with the dedicated faculty, helped guide me in this field and to the successful career that I have today."




Ed.D. in Leadership and Administration, 2018
Education Programs and Field Placement Specialist, Act 48 Coordinator and Adjunct Professor, Chatham University

"Courses were one night per week and this was extremely beneficial for a work-life-school balance. In addition, numerous people told me that the Ed.D program was an amazing and life-changing program — they were right."





M.A. in Curriculum and Instruction focused in Adult Learning and Training, 2004
Dean, School of Mathematics, Science, and Engineering, SUNY Westchester Community College

"The graduate classes I took at Point Park in curriculum and instruction and adult learning prepared me for the wide range of students I would meet as a faculty member, as well as the students I work with now as dean."


 


Principal K-12 Certificate, 2018
Assistant Principal, Spring Cove School District
"Point Park University's K-12 principal certification program provided me with the knowledge and skills to obtain the role of assistant principal. Throughout the program, there was an emphasis on transformational leadership and on the principal's role as an instructional leader."

 


Ed.D. in Leadership and Administration, 2018
National Board-Certified English Teacher, West Allegheny School District
"My additional years in the Ed.D. program prepped me to become a teacher-leader and department chair at my school through both individual and group presentations and individual coaching and conversations with my professors and classmates. I found that much of what transpired in the classroom correlated to what I was experiencing in my workplace and gave me the confidence to grow as an educator."

 


Ed.D. in Leadership and Administration, 2019
B.A. in Secondary Education
High School Librarian, Fox Chapel Area School District
"Through my Ed.D. studies I have become a more reflective and thoughtful leader. I am continuously going back to chapters that I read or thinking about discussions from class in order to make the best decisions for both Fox Chapel Area High School Library and the Pennsylvania School Librarians Association."

 
M.Ed. in Education Secondary, 2018
Long-Term Biology Substitute Teacher, South Fayette High School
"The master's in secondary education program at Point Park University was extremely beneficial to me in a variety of ways. It has made me a more well-rounded educator and it has given me the confidence to step out of my comfort zone."



Ed.D. in Leadership and Administration, 2020
CEO, Penn Hills Charter School of Entreprenuership 
"Having the opportunity to learn from thoughtful educators and leaders in the Ed.D. program has been most rewarding. I've considered and implemented several innovative ideas, strategies and tools that many of my classmates use in their organizations. Also, I have developed an appropriate level of empathy, patience and resolve."



M.A. in Curriculum and Instruction, 2007
Executive Director, Bidwell Training Center
"My graduate education classes opened my eyes to the true power of effective instructional design as a critical component for improving learning retention in adult learners ... The various adult learning theories we explored in the curriculum and instruction graduate program have been invaluable for helping me develop more meaningful programs and courses."



Ed.D. in Leadership and Administration, 2018
Clinical Assistant Professor, University of Pittsburgh
"By earning a doctoral degree, I am showing young black girls that obtaining this level of success is not out of their reach. I have a duty to mentor young people and give back to my community. The Ed.D. degree in leadership and administration has opened so many doors for me that would have been closed without it."

The Point Park University School of Education faculty are extremely knowledgeable and passionate about leading. They all came with diverse leadership backgrounds which greatly impacted the student experience."

Ed.D. in Leadership and Administration, 2018
School Principal Certificate, 2005
Assistant Principal, Shaler Area Middle School
"In the Ed.D. program, I benefited not only from the course content and instructors, but also the peer group of educational leaders in my cohort who will be part of my professional network now and in the future. I appreciated that Point Park considered the working professional as they were designing the program, creating a supportive environment that ensured we would have what we needed to achieve."

"Point Park has helped to link practice with the theory. It has also motivated me to think about the research being done in education and challenge myself to look for opportunities to examine our practices in terms of what will improve outcomes for students."


Ed.D. in Leadership and Administration, 2018
M.A. in Curriculum and Instruction, 2016
Teacher of English and Communications, Curriculum Facilitator and Instructional Technology Coach, Bethel Park School District

"Point Park provided a dynamic blend of rigor, expertise, multiple perspectives and compassion that supported my academic and professional growth. I was delighted to complete the Ed.D. program in two years."

"Point Park's graduate and doctoral programs, with evening and weekend classes, provide a great match for leaders in a variety of fields to make a living and keep learning."


Principal K-12 Certificate, 2017
Assistant Principal, North Allegheny Intermediate High School

"I had researched several programs before deciding upon Point Park Univeristy. Internships, networking opportunities, course descriptions, the flexibility in delivery methods (in class, hybrid and online) and affordability were huge reasons why I chose Point Park. In addition, at the time, their principal exam completion rate was 98 percent passing! I'm now exploring Point Park's Ed.D. doctoral program and charting my next chapter in higher education."

"Also, when I was taking classes in the principal certification program and working as a teacher, I accepted a student teacher from Point Park and was able to get credit toward a class at the University. What a bonus!!!."
M.Ed. in Special Education, 2017
Fourth Grade Teacher, Lincoln Elementary, Mt. Lebanon School District

"Point Park's flexible scheduling in the M.Ed. in special education program, which offers classes both online and on ground at the campus, allowed me to attend graduate school and work full time as an elementary school educator."

"My graduate classes have helped me to become more knowledgeable about special education. With inclusive classrooms, teachers must be well versed in all areas, but most importantly understand how to teach all students and the best practices in which to do so."
Pursuing M.A. in Educational Administration (fully online)
Seventh Grade Teacher, Highlands Middle School
"I wanted a graduate program that I could do 100 percent online due to my busy schedule of working full time, coaching two soccer teams and spending time with my husband, my dogs and my family."

"Being able to do the M.A. in educational administration program online has made my dream of pursuing a master's degree possible! It has been a great experience because it allows me to connect with others from all over the region through discussion boards and other tools."
Ed.D. in Leadership and Administration, 2018
English Department Director, Pittsburgh CAPA
Actress in the movie Fences
"Point Park University's Ed.D. in leadership and administration program has allowed me to honor my commitment to being a leader in urban education. The Ed.D. program is helping me to cultivate my ability to use my personal and professional experiences to develop and manage educational programs that encourage a deeper understanding of how to effectively teach and lead urban educators."

"I selected the Ed.D. program because it offers leadership course work of high interest that aligns with my career goals."
Graduate of Point Park's ABCTE program, 2015
Secondary Education Biology and Chemistry Teacher, North Allegheny Intermediate High School
"The ABCTE program helped me to transition from one professional career to another and allowed me to focus on educational principles since I already had the content background."

"The Classroom Discipline course [at Point Park] was my favorite. I learned a lot from that course and received additional resources to grow my career and advance my professional development. Also, my professor in the course was very helpful and understanding of my career timeline."

 
Ed.D. in Leadership and Administration, 2018
Director of Academic Achievement and District Innovation, Montour School District
"I was attracted to Point Park University's Ed.D. degree in leadership and administration because of the balance it provided as a comprehensive, yet academically rigorous program, designed for working professionals."

"Point Park University classes have helped me question and challenge my thinking by exposing me to top-notch professors and fellow classmates who are experts in their respected fields. The classes are always thought provoking and never boring. I often leave class with ideas I can implement in my school district the very next day."
M.A. in Curriculum and Instruction with a concentration in Teaching and Leadership, 2016
B.A. in Secondary Education English and Special Education, 2014
English/Special Education Teacher, Moon Area High School
"My sole reason for returning to Point Park, aside from the school's reputation in the education community, was my experience during my teacher preparation program. My student teaching experience was one of the best experiences of my life! From day one, I truly felt as though I had found what it is I was supposed to do with my life — and Point Park found the best possible location for me to do that! "

 
Ed.D. in Leadership and Administration, 2016
Educational Consultant, Appalachia Intermediate Unit 08
"Point Park designed an Ed.D. program that fits into my busy life and challenges me as a student. I was drawn to the two-year timeline, hybrid courses and the ability to teleconference from a location not far from home."

"I have taken some of the best classes of my academic career at Point Park, such as Organizational Development and Introduction to Research Writing. The faculty and staff are genuinely concerned with my success as a doctoral candidate, and they are invested in my research. "
K-12 Principal Certification, 2012
Assistant Principal, Woodland Hills High School

"The main reason I chose Point Park was because that is where my assistant high school principal at Mars Area High School attended. I also liked that the University was located in the city and close to where I lived."

"I had a great foundation set for me from my experience at Point Park. The faculty at Point Park gave really good advice and expertise on what I should expect as a school administrator."
Ed.D. in Leadership and Administration, 2017
President and Chief Cultural Consultant for Executive Leadership, BW3

"When I was interviewing for the Ed.D. program, I was really impressed with the faculty. I saw that Point Park was progressive and a university in which I would be proud to be affiliated with."

"Initially, there was some trepidation coming into the program. I had not been in school since 1999 so I wasn't sure if I'd be able to 'get back on that horse' easily. However, meeting my cohort group was a very positive experience. We bonded very quickly and this has been essential to my success so far."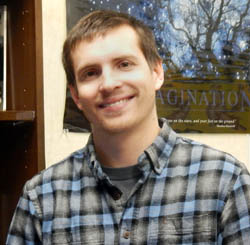 M.A. in Secondary Education English, 2014
High School Generalist Teacher, Lower Kuskokwim School District

"I chose Point Park as an undergraduate student for its generous scholarships, campus location in the heart of Downtown Pittsburgh and intimate class settings. The quality of the education I received brought me back for more as a graduate student looking to make myself more marketable."

"Every department at Point Park has leaders in their respective fields who have given me the knowledge and skills I needed to meet the diverse needs of my students."


B.A. in Secondary Education English, 2010
M.A. in Educational Administration, 2014
Learning Environment Specialist, Pittsburgh Public Schools

"I really enjoyed earning my bachelor's degree at Point Park. Plus, I heard the University offered great master's programs so I figured it made sense to continue on here. I passed my principal boards this past spring and feel that Point Park really prepared me for the test. 'The Principalship' class I took was especially helpful. It went over everything you need to be an effective leader in a school."

"The education professors are good people with strong backgrounds in the education field. They are so helpful with networking and are very supportive, flexible and inspiring toward students."



M.Ed. in Secondary Education, 2014
Fellow, Pittsburgh Schweitzer Fellows Program and Programming Assistant, Pittsburgh International Children's Theater and Festival

"What is truly beautiful about Point Park University's education department is the viewpoint that current and future educators should respect and honor their students as individuals. I have observed the power of strong teacher-to-student interactions and how it creates successful cognitive learning."

"I hope to continue my development of innovative ways to communicate with students, parents and administrators as well as navigate the challenges of working in a public school throughout my pursuit of a master's degree at Point Park."



B.A. in Elementary Education, 2009
M.Ed. in Teaching and Leadership, 2013
Teacher, Pittsburgh Public Schools

"I chose Point Park for graduate school based on my positive experiences in the undergraduate program and for the small class sizes. A small classroom environment is where I learn best."

"My ultimate career goal is to become an administrator at some level. I'd like to be involved in the decision-making processes for classrooms using my experience as a guide. Long term, I'm also considering earning a doctorate degree in education."



B.A. in Elementary Education, 2009
M.Ed. in Teaching and Leadership, 2011
Third Grade ELA Teacher and Clinical Resident Instructor, Pittsburgh King Pre-K through 8th grade
"The rigor of my bachelor's experience and relevance to 21st century teaching brought me immediately back for my master's degree."

"Point Park's education professors are skilled, knowledgeable, experienced, amiable and extremely responsive to student needs. They know what skills are necessary for 21st century educators and mold each student individually to ensure they have attained those skills."



M.A. in Educational Administration, 2009
Principal, Pittsburgh Colfax K-8

"I chose Point Park for its reputation. As I was considering options, I learned that there were successful former Pittsburgh Public Schools administrators on faculty at Point Park. Additionally, I knew students who were enrolled at Point Park. They spoke with me regarding the rigor of the program and the quality of professors."

"I would describe Point Park's education professors as experienced. There is so much talent and knowledge on staff. The professors all have intimate knowledge of the necessary qualities to prepare future administrators. The department is extremely responsive to student needs and provided me with real-world experiences which sculpted my ability to effectively lead a school." 


M.A. in Curriculum and Instruction, 2010
Instructor of Early Childhood Education, Community College of Allegheny County

"The curriculum and instruction program made me a better teacher. The professors were really nice and I loved the classes. Dr. Revilla served as a wonderful mentor to me and really helped guide me with my future goals."

"I liked the location of the campus. It was convenient for me to get there by bus."

 
M.A. in Curriculum and Instruction, 2006
Coordinator of Curriculum, Instruction and Assessment, Allegheny Intermediate Unit

"I was impressed with the courses offered and the faculty in the program. All of the faculty members had practical experience working in the education field as principals, administrators, or teachers. Their teaching style is based on their real-world experiences in school districts."

"By earning a master's degree from Point Park, I was also able to obtain my curriculum and instruction certification through the Commonwealth of Pennsylvania. This additional certification has opened doors for me that my administrative certificate alone could not."



M.Ed. in Secondary Education, 2008
Seventh Grade Life Science Teacher, Carlynton Junior-Senior High School
"Ultimately, I chose Point Park for its extremely flexible schedule and very inviting faculty. When I visit Point Park, I still give my professors a hug. The personal relationships you develop with faculty at Point Park are second to none."

"Point Park's teachings were spot on with trends in education. What I was learning at Point Park directly translated into the classroom where I was teaching. It was great to be able to implement my new skills right away."