more news
Students Hear First-Hand From 'Chair' Producers
Wednesday, February 26, 2014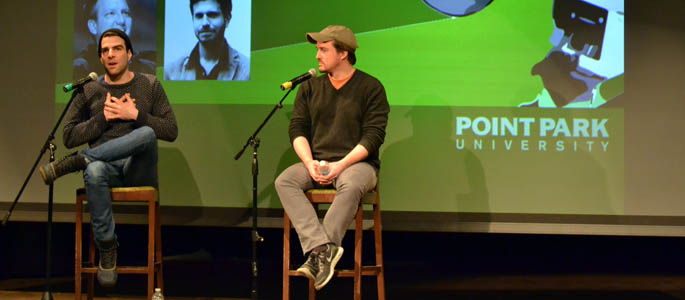 Left to right: Producers Zachary Quinto ("Star Trek" and "American Horror Story") and Neal Dodson ("Margin Call" and "Breakup at a Wedding") speak to students in the GRW Theater. Watch the archived video below.
Point Park University's cinema and digital arts department hosted actor/producer Zachary Quinto and producer Neal Dodson on Monday, Feb. 17, for "The Creative Side of Filmmaking: Building a Lasting Career." Held in the GRW Theater, the event focused on the role creativity plays in today's film industry.
Dodson and Quinto - both partners in Before the Door Pictures - serve as executive producers in the documentary television series Point Park is helping to produce, "The Chair."
---
Related Links
Conservatory of Performing Arts
Schedule a Campus Visit
Apply Online Free
After speaking about their personal experiences in the film industry, the two presenters answered questions from Point Park students in attendance and those viewing online. Derek Rudy, a senior cinema and digital arts major and a production assistant for "The Chair," stepped up to ask if the two men could explain what they feel the differences are between working in TV and movies.
"Television is relentless. You don't always know where your character is going," Quinto responded.
Rudy said that hearing from both Quinto and Dodson was informative and inspirational.
"It was not only great to be in the same room as someone who is recognized worldwide, but the opportunity to ask a question and have an engaging conversation was an experience unlike any other," Rudy said.
Quinto also provided advice for students on how to be prepared for the post-college film world.
"[You need] experience on the set. You learn more on set in three minutes than you will learn listening to us talk for three hours," Quinto said.
To close the event, Quinto, a Pittsburgh native, shared his feelings on being back in the city to work on "The Chair."
"It's really exciting and humbling in a lot of ways," Quinto said. "I'm walking the streets I once did a lot of dreaming on."
The Creative Side of Filmmaking
Learn More
Follow the project on social media: Facebook, Twitter and Instagram.
In the News
Media Inquiries
Contact Chris Ann Hays at chris@blenderadv.com or 412-389-1385.
Text by Abigail Mathieu, a senior double majoring in journalism and public relations and advertising
Photo by Sarah Cunningham, a senior photojournalism major
More About: cinema arts, guest artists, The Chair