more news
World Affairs Council Holds National Security Seminar at Point Park
Tuesday, February 17, 2015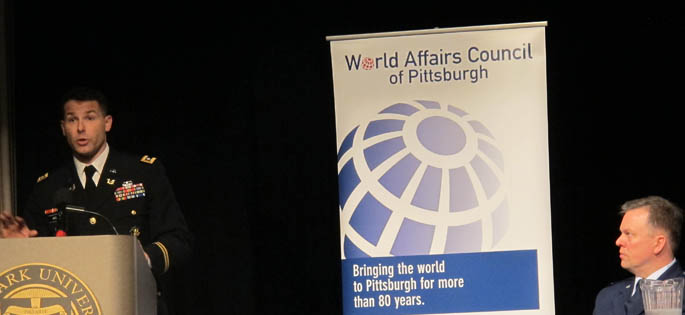 Lt. Col. Warren L. Wells, U.S. Army, discusses American military commissions of the past and present.
The World Affairs Council of Pittsburgh chose Point Park University as the site to host its Feb. 11 global issues seminar on "Exploring National Security Challenges in 2015."
More than 70 students, teachers, professors and community members throughout the Pittsburgh region attended the event, held in the University Center.
"Point Park University offers a great venue and the staff are accommodating and fun," remarked Amiena Mahsoob, director of education programs for the World Affairs Council of Pittsburgh.
At the day-long seminar, senior officers from the United States Army War College spoke on a variety of national security topics including:
Unmanned Aerial Systems Operations;
Building Partner Capacity in Afghanistan;
American Military Commissions Past and Present;
The Ebola Outbreak: Department of Defense Response;
The U.S. Military Rebalance to the Pacific;
U.S. Strategy Addressing Russian Expansion; and
The Evolution of U.S. Ballistic Missile Defense.
"Point Park has a long-standing relationship with the World Affairs Council," said Helen Sobehart, D.A., associate vice president for graduate education. "This event was very consistent with our mission, realizing that our 'community' is not just southwestern Pennsylvania but the world."
Learn More
Related to the national security topics listed above, Point Park University offers the following degree programs:
Undergraduate
Graduate
M.B.A. in global management and administration
More About: M.A. in global security and intelligence, global management and administration, criminal justice, global cultural studies, Downtown Pittsburgh, history, intelligence and national security