more news
At Speed Networking event, students practice conversation skills for job hunting, career prep
Friday, February 5, 2016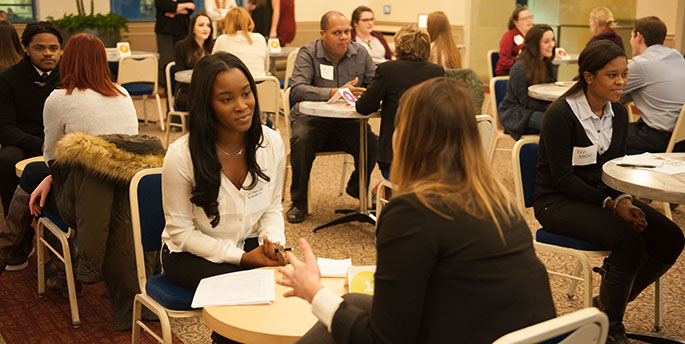 Firm handshakes for making a good first impression. Butterflies fluttering in your stomach. Questions racing through your mind.
These experiences may sound like elements of speed dating, but during a recent evening on campus, they were all part of a new career preparation event for Point Park students: "Speed Networking."
Designed to give students experience talking to professional contacts and prospective employers, the event brought together working professionals - including Point Park alumni and members of Women in Sports and Events - with current students in a Lawrence Hall meeting room specially set up for the fast-paced event.
"Students come through, sit down one-on-one with an employer and have four minutes to make their connection before moving on to the next individual," explained Career Development Center counselor Samantha Moyer, who organized the event with assistance from the Office of Alumni Relations and in partnership with WISE.
The room had 20 small, round tables, each with two chairs placed directly across from the other. Each row of tables was color-coded and numbered to help students advance to their next table.
As the event began, Career Development Center staff members gave students practical tips on how to remain focused, poised and professional in starting a conversation with someone who could offer career connections.
A staff member asked the students if they were nervous; nearly every hand went up. But when Moyer gave the signal, conversations began flowing across each table.
Michael Hansom, a senior criminal justice major, took part to polish her communication skills ahead of graduation.
"I wanted to attend Speed Networking to enhance my interview skills and my networking skills," Hansom said. "I am interested in computer forensics or a job with the government, just something related to my field."
Sophomore Joseph Tischler, a sports, arts and entertainment management major, attended as a requirement for his career preparation class.
"It made me aware about the options I have," Tischler said. "Attending this event gave me an understanding of what businesses I can be a part of … [and] left me with future employment opportunities."
Alumna Nina Hamm, volunteered her time because she would have enjoyed taking part in Speed Networking back when she was a student. Now an event sales supervisor for Phipps Conservatory and Botanical Gardens, Hamm shared insights from an employer's point of view.
"My advice to them would be to try to get as much experience as they can," Hamm said. "Take opportunities as they present themselves because you never know where they'll take you."
Article by Kariann Mano, senior PR and advertising major, and Starla Murray, junior PR and advertising major.
More About: sports, arts and entertainment management, criminal justice, alumni, Career Development Center