more news
Cinema Professors Present at Film Summit
Monday, June 2, 2014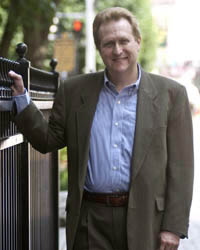 Steve Cuden
Steve Cuden, assistant professor of screenwriting, and adjunct instructor Elise D'Haene, presented at the annual Women in Film and Television International Summit held in Downtown Pittsburgh, May 16-18.
Cuden, a playwright and screenwriter with nearly 40 years of experience and a member of the local chapter of Women in Film and Television, gave a seminar titled "Creating Unforgettable Scenes."
"Scenes are the building blocks of movies and TV shows. As long as the world wants to see great, compelling stories for motion pictures and TV, there will always be a need for the creation of eminently watchable characters in conflict with other great characters in memorable scenes. This kind of work will always be a necessity, and those who can deliver it will always be in demand," Cuden said.
D'Haene, a screenwriter, novelist and editor, and Molly Rice, a playwright and songwriter, presented on the topic of "Creative Disruption/Distribution" to a group of filmmakers from around the country.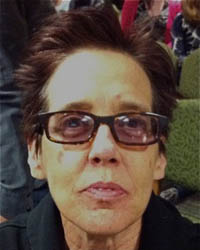 Elise D'Haene
According to D'Haene, with an increase in digital platforms like social media, blogs and video games, audiences are no longer passive consumers of the media but rather they are the media.
"As filmmakers and professionals in media and television, we have to realize that the audience is now a full participant in our creative process," said D'Haene. "We also have to look at the new platforms and analyze how those platforms might serve, enhance and transform our creative content."
Added Cuden, "Pittsburgh has really grown into a powerhouse in terms of the development of local artists, writers, playwrights, screenwriters, poets, novelists, etc. It is really wonderful to be here and part of such an exciting and expansive period of cultural and artistic growth in this beautiful city of champions."
Learn more
Explore the cinema arts program at Point Park University.
More About: cinema arts, faculty, Downtown Pittsburgh