more news
Business of Filmmaking Event Kicks Off 'The Chair' Project on Campus
Wednesday, February 12, 2014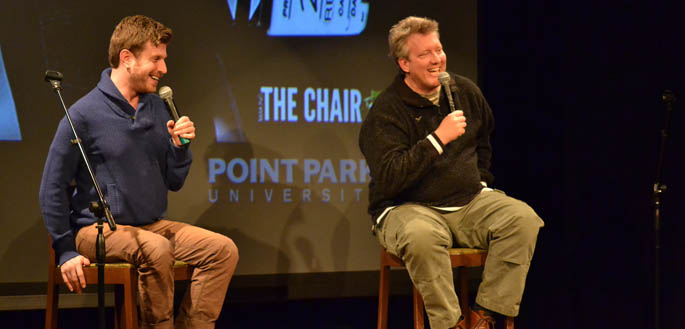 Left to right: Producers Corey Moosa ("All is Lost," "Breakup at a Wedding" and "Margin Call"), and Chris Moore ("Good Will Hunting," "American Pie" series and "Adjustment Bureau") speak to students in the GRW Theater.

Point Park University's cinema arts department hosted producers Chris Moore and Corey Moosa on Monday, Feb. 3, for "The Business of Filmmaking: Navigating Today's Entertainment Industry." Held in the GRW Theater, the event focused on how to be successful in today's film business.
---
Related links
Cinema Arts Program
Cinema Application Process
Schedule a Campus Visit
Apply Online Free
The event also served as a kick-off for the production of "The Chair," a documentary television series that Point Park is helping to produce.
The series follows two young directors as they compete to make the best film from the same script. Moore is one of the executive producers along with well-known actor and producer, Zachary Quinto, Moosa's partner from Before the Door Pictures.
More than 100 Point Park students and alumni are involved with the project.
During the presentation, Moore spoke highly of Point Park's involvement with "The Chair."
"[In film,] I want to know, can you actually do the job we need you to do?" Moore asked. "I've found that people out of this school can."
Students in attendance were given the opportunity to ask questions of Moore and Moosa following the presentation. When asked how the two men became successful, Moosa said, "it was hard at the beginning, but persistence is really key for doing this."
For those who could not attend, the event was live streamed and archived on Point Park's YouTube channel. Students were able to tweet in their questions by tagging #MakingTheChair.
At the end of the event, Moore emphasized his excitement about working with Point Park.
"It's been a very good partnership, and we're very excited about it."
Learn More
Follow the project on social media: Facebook, Twitter and Instagram.
Media Inquiries
Contact Ramesh Santanam at rsantanam@pointpark.edu or 412-392-8106.
Text by Abigail Mathieu, a senior double majoring in journalism and public relations and advertising
Photo by Sarah Cunningham, a senior photojournalism major
More About: cinema arts, The Chair