more news
2012 Alumnus Earns Best Actor Nomination for Web Television Awards
Monday, December 23, 2013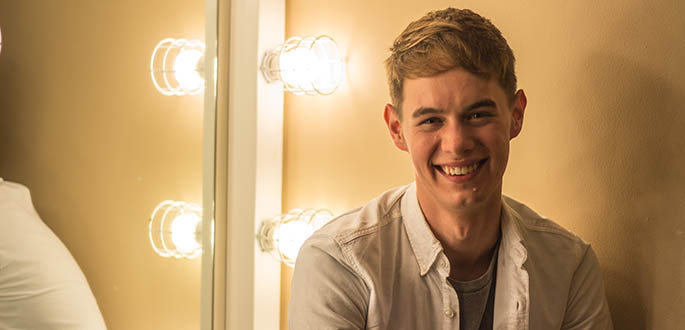 Meet Connor Russell
Job title/current role: Starring in The Hinterlands, a musical web series
Degree earned: B.F.A. in musical theatre with a minor in dance, 2012
Hometown: Seattle, Wash.
Now living in: New York City
High School: Skyline High School
Briefly describe what The Hinterlands is about and your role in it.
The Hinterlands is a musical web series about a kid named Paul, who I portray, as it follows his path dealing with bullying, his sexuality and adolescence in an isolated small town. It was created in response to the vast amount of teenage suicides among the LGBTQ community, and used to give kids a character they can relate to through an easily accessible online resource.
What's it like to be nominated for an International Academy of Web Television Award in the category of best actor?
It's extremely exciting. Being nominated for anything is thrilling, but to be in the best actor category nominated alongside David Arquette and Milo Ventimiglia is truly surreal.
Why did you choose Point Park for your major?
I chose Point Park because of its extremely diverse program. In choosing a college, I wanted a school that had not only an outstanding acting and vocal program, but also an exquisite dance program. I wanted to be the most well-rounded performer I could be upon graduating. I had a number of good programs to choose from but I thought Point Park would be the best fit to get me there.
How did your Point Park experience prepare you for your career?
I left Point Park with an extremely well-rounded education and an ability to adapt quickly. Being well trained in all aspects of your art is very valuable in working in the performance field, and my training at Point Park helped prepare me in that respect.
What advice do you have for prospective students?
Choosing a college program is hard. There are so many factors that have to fall into place and it needs to feel right. But as a former Conservatory of Performing Arts student, I can say with entire certainty that there is no other place I would have rather gone. The training, faculty and program were everything I wanted. I'm wildly thankful.
Anything else you would like to add?
As you pursue your theatre training or your theatre career after college, never be afraid to be yourself. It's far too easy to fall into a trap of trying to be someone or something else, and what I believe is that the true ticket to happiness in your life and career is just to be you.
More About: dance, alumni, success story, musical theatre