more news
Alumna Taylor Fareri '13 Nominated for Second Emmy Award as a Television News Producer
Alumni Profile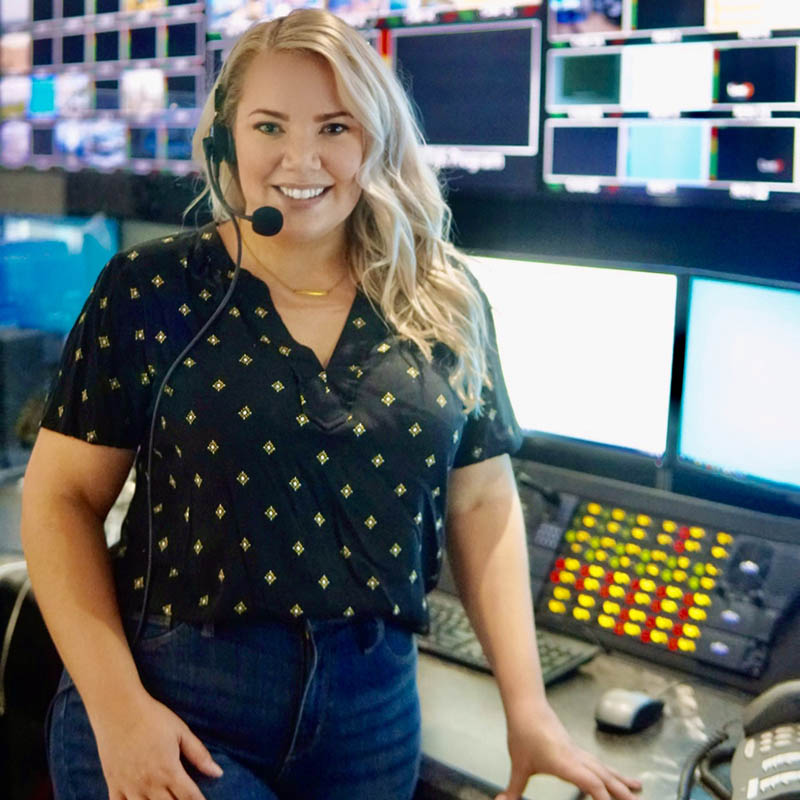 Meet Taylor Fareri
Job Title & Employer

News Producer, KTVK 3TV & KPHO CBS 5 - Arizona's News Family

Major

Broadcast Reporting

Graduation

April 2013

Hometown

Stroudsburg, Pa.

High School

Notre Dame Catholic High School

Now Living In

Phoenix, Ariz.

Hobbies & Interests

Baking, crafting, painting and hiking
"Point Park really laid the foundation for my career in news. Unlike other schools, you get hands-on experience your very first semester."
Taylor Fareri
Tell us about the work you do as a news producer.
I have been working at KTVK-KPHO (a.k.a. Arizona's Family) for five years! I create newscasts from start to finish. I choose the content, graphics, camera shots and write. My station allows us to get really creative, which is a lot of fun! You can count on me to edit the anchors into silly graphics. I also get to create specials. I most recently produced a Town Hall on racism in America and am working on election coverage for the fall.
In what ways did your undergraduate experience at Point Park prepare you for your career?
Point Park really laid the foundation for my career in news. Unlike other schools, you get hands-on experience your very first semester. I took a variety of classes from broadcast announcing to editing and on-camera classes. The class that made the most impact was copywriting with Gina Catanzarite. That is where I learned how to write scripts, packages and how to be creative. I still have printed copies of my assignments, complete with Gina's notes!
Point Park also helped me land an amazing internship at KDKA. I was able to write segments that aired on TV. I learned so much and made connections that helped me land my first job.
You recently received your second Emmy nomination. Tell us more about that and what it means to be recognized in the industry.
I have been nominated twice in the breaking news category. Once at my previous station, and now with Arizona's Family. This current nomination is for a very tragic story where three children were killed. Breaking news can be chaotic, challenging and extremely emotional. I'm really proud of how my team worked together to cover the story. I'll never forget that night.
Ultimately, being nominated for the award is such an honor, even without a win!
What advice do you have for prospective School of Communication students?
Take all the classes you can. You have an opportunity at Point Park that you likely won't have again. You're getting to learn from people who know the ins-and-outs of the business. Learn from them and ask as many questions as you can. Take some classes outside of your field to see what else is out there. One of my favorites was commercial/promotional writing, which was so much fun.
What are your favorite Point Park memories?
Hands down, traveling to Italy with the School of Communication! We spent two weeks exploring different cities, from Rome to the Amalfi Coast. We were able to visit Sky News and the Vatican News. It was life-changing trip, and the college credit was a bonus.
Is there anything else you would like to add?
I'd like to thank my parents for cheering me on throughout my college years and career!
More About: study abroad, broadcast reporting, faculty, success story, journalism, alumni, internships, School of Communication