more news
Sport, Arts and Entertainment Management Career Event at Point Park on Feb. 12
Tuesday, January 29, 2013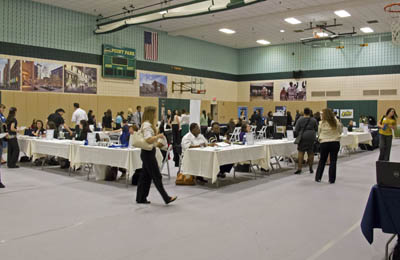 Read about last year's SAEM career event.

Pittsburgh area college students of all majors are invited to attend a sport, arts and entertainment management career event on Tues., Feb. 12, 2013 from noon to 3 p.m. at Point Park University's Student Center.

The event is hosted by the SAEM program and Career Development Center at Point Park.
Live Nation, Stage AE, Pittsburgh Symphony Orchestra, Pittsburgh Steelers, The Talent Group, WTAE-TV, CBS Radio, Heinz Field and ModCloth are among the more than 50 employers who will be in attendance.

In addition, Pittsburgh area professionals will host half hour panel sessions from 1 to 3 p.m. on various topics including the live music industry, sports, radio, theater, social media, performing arts, event management and current trends in the sport, arts and entertainment management industry. After the panel sessions, students will have the opportunity to network with these professionals.
Register for the career event at www.pointpark.experience.com. For more information, contact the Career Development Center at careerdev@pointpark.edu.
Following the event, a 10th Anniversary Celebration for Point Park's SAEM program, along with a networking reception for employers, graduate students and SAEM alumni and seniors, will be held at Stage AE on Pittsburgh's North Shore from 4 to 5:30 p.m. Shuttles running to and from Stage AE will be available in the parking lot next to Point Park's Student Center. Attendees must be 21 years of age or older and should RSVP to ascaramucci@pointpark.edu.
More About: Career Development Center, Rowland School of Business, sports, arts and entertainment management, Internship and Job Fair