more news
SAEM Student Profile: Evan Pearson, Promotions Intern for Pioneer Records
Thursday, March 3, 2016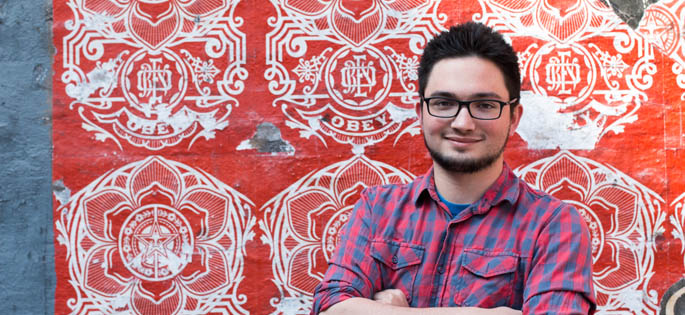 Pearson has worked at a variety of shows from Chris Tomlin and Shania Twain to Jeff Dunham and WWE
Monday Night Raw.
Meet Evan Pearson
Internship: Promotions Intern for Pioneer Records
Major: Sports, Arts, and Entertainment Management
Expected graduation: December 2016
College activities: Pioneer Records and Music Association Club
Hometown: Upper St. Clair, Pa.
High school: Upper St. Clair High School
Now living in: Carnegie, Pa.
Hobbies/interests: Writing, playing and listening to music as well as working at shows in a wide variety of roles
LinkedIn: Evan Pearson
Update: Evan is now an artist agency for Pier30 Music Agency in Nashville, Tenn.


What inspired your passion for music and entertainment management?
I would have to say that playing the drums was the first thing that got me into music. After I learned how to play, I formed a band with a couple of my friends and we had a lot of fun playing together. It led to playing shows at some small clubs and community events in our town, which is where I got my first exposure to the business side of it all. It was a little overwhelming at the time because I was only 14 when I started gigging around the city, but I have been hooked ever since.
What are your key responsibilities as a promotions intern for Pioneer Records?
My main responsibility at Pioneer Records is getting our artists booked at a variety of different events. These events can be small music festivals, clubs and other local music venues. We've had success getting our first artist, Hannah Jenkins, booked at some nice places like the Pittsburgh Winery, and most recently, The Strip District Music Festival. I hope to carry on this success with our newest artist, John Kono Rushlander. Also, we recently launched a concert series at Hundred Wood called Out of the Woodwork, where local artists play on campus for Point Park students in an intimate and relaxed environment.
What factors made you choose Point Park?
I chose Point Park thanks to a friend who pointed me toward this University. He told me about the sports, arts and entertainment management program and it just sounded like the perfect fit for me. Right before I made my decision, I met with Professor Ed Traversari about what Point Park could offer me and what types of classes I would be taking. I knew this was the place for me after that. Plus, I had fun talking with Ed about all the awesome pictures in his office of him with a lot of my musical idols.
Tell us about your experiences as a production runner for various shows in Pittsburgh.
Being a production runner has given a unique look inside the live entertainment industry that most people don't really get to see. Each show has taught me something valuable, but the most important thing I have learned is that no two shows are managed the same way.
Each and every event has completely different sets of tasks that need to be taken care of and you have to stay on your toes to keep up. For example, running for Chris Tomlin, a Christian rock artist, was much different than running for WWE Monday Night Raw. Some other notable shows I have done production running jobs were for singer Shania Twain and comedian Jeff Dunham.
What do you enjoy most about being a Pioneer?
I have enjoyed being a Point Park student for several reasons. The opportunities and experiences I have gained from my classes, my internship and my outside work linked to the University have all been valuable to me as a future entertainment business professional.
My professors have taught me a lot of useful information and have always been helpful in pushing me in the right direction toward my career goals. But overall, my favorite thing about being a student here has to be my peers. It is really cool to be going to a school where so many other students are as into the same things as I am.
What are your career goals?
This question is tough for me because I am pretty much up for anything having to do with live music. My main goal is to be working in the business in virtually any shape or form. Ultimately, it would be great to operate my own venue someday, but being a manager for a band, working on tour or becoming a booking agent would also be pretty great.
Is there anything else you'd like to add?
For anyone trying to get started in the live music business, keep your schedule open, volunteer/work at as many events as you can, network with anyone who can help you elevate your career, and leave your opinions about the bands you work for at the door because you never know who you might be working for someday.

Photo by Victoria A. Mikula, junior mass communication major
More About: Rowland School of Business, Pioneer Records, internships, sports, arts and entertainment management, Upper St. Clair High School