more news
Meet Alumna Jessica Zamiska, Manager of Visitor Services
Friday, November 18, 2011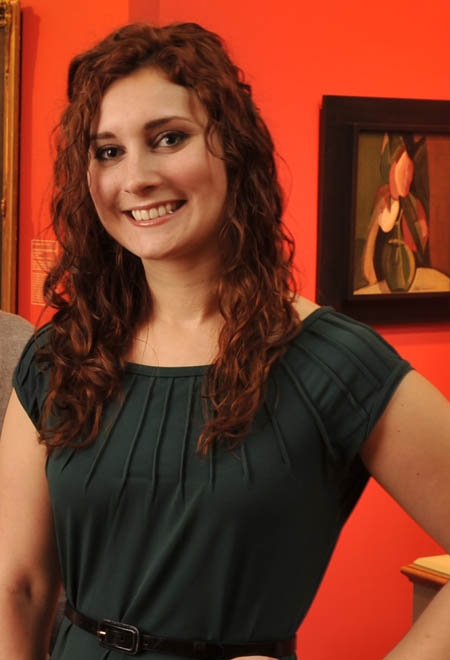 Meet Jessica Zamiska
Job title and employer: Manager of Visitor Services, Westmoreland Museum of American Art
Degrees earned: B.A. in Italian languages and literature and B.A. in communication and rhetoric, University of Pittsburgh; M.B.A. with concentration in sport, arts and entertainment management, Point Park University
Graduation years: 2008 and 2009
Hometown: Charleroi, Pa.
Now living in: Pittsburgh, Pa.
Please give us an overview of your internship and career background.
While studying at Point Park, I was a graduate intern with The Pittsburgh Cultural Trust, working specifically with the Pittsburgh International Children's Theater. I worked closely with the director, assisting with marketing, event programming, venue management and community outreach. I also helped plan the Pittsburgh International Children's Festival. My experience at The Pittsburgh Cultural Trust was invaluable, as I was able to see projects through from inception to completion, whether it was an e-newsletter or the Children's Festival that was attended by 22,000 visitors.
During my undergraduate studies, I worked in the hospitality field. I was a server and then the front of the house manager at a fine dining restaurant where I focused on customer service and special events. Those experiences combined helped prepare me for the position I have now.
What made you choose Point Park for your MBA?
I chose Point Park University for my MBA because of its Downtown Pittsburgh location and the experienced faculty within the sport, arts, and entertainment management program. It was important to me that the instructors had a working knowledge of the field.
Why did you select the SAEM concentration?
As a freelance vocalist and performer, I've always wanted to pursue a career in the art and entertainment industry. I knew that in addition to receiving a solid education in business management, I would be learning from instructors who were still working in the art and entertainment fields. I thought it would be the best of both worlds.
What was one of your favorite experiences at Point Park?
While he was teaching a class on sports management, our instructor Steve Tanzilli was also in the process of planning the Pittsburgh Triathlon. Not only did I learn about planning a large-scale sporting event, but also was able to participate in the process. The entire class had the opportunity to assist in the areas of marketing and logistics as well as volunteer the day of the event.
Describe a typical day for you at the Westmoreland Museum of American Art.
On a daily basis, I oversee the visitor services staff to help make the visitors' experience more enjoyable. I keep the staff informed on events, exhibitions and special programming and I use visitor feedback to help create a better museum experience. Updated gallery guides, maps and cell phone tours have made the museum more accessible to visitors.
We've also developed a monthly happy hour event called Art on Tap 5.2.7, which provides a casual social environment that helps visitors feel comfortable in a museum setting. For a lot of attendees it is the first time they've been to the Westmoreland Museum of American Art since they were young. They feel comfortable because of the relaxed atmosphere and have the opportunity to learn about the art through games and activities like scavenger hunts. I've been organizing Art on Tap 5.2.7 every month since it began in Nov. 2010, and it has been a great success for the museum and community alike.

How do you incorporate the skills you learned in the MBA classroom into the work you do today?
In my organizational leadership course, I learned that good communication skills are essential to good leadership. I have found that it is especially important to be a good listener. Whether there is a conflict or a new suggestion, it is important to have a level head and fully understand the situation in order to resolve the issue.
What advice do you have for students pursuing a career in arts management?
Network as much as you can and touch base with the contacts you've made every so often-just a quick email will keep you on their radar. Also, take advantage of every internship and job opportunity (paid and unpaid) within your desired field. Every experience helps add depth to your resume and you never know whom you'll meet.