more news
Renowned Forensic Expert Cyril Wecht Visits Point Park to Discuss J.F.K. Assassination
Tuesday, November 26, 2013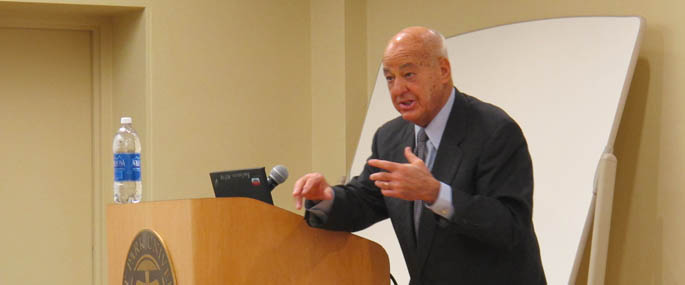 Nationally acclaimed forensic expert Cyril Wecht, M.D., J.D., recently visited Point Park University to give a passionate presentation on his criticism of the Warren Commission's findings regarding the assassination of President John F. Kennedy.
Students, faculty and staff packed into the JVH Auditorium for the event, which was sponsored by the Department of Criminal Justice and Intelligence Studies and spearheaded by Olivia Baker, a sophomore forensic science major.
"I reached out to Dr. Wecht personally and asked if he would be interested and available to come to Point Park to talk about the J.F.K. assassination," said Baker.
The main focus of Wecht's presentation surrounded his rejection of the Warren Commission's single-bullet theory, which suggests that Kennedy was shot by the same bullet that also injured Texas Gov. John Connally, who sat in the front seat of the presidential limousine.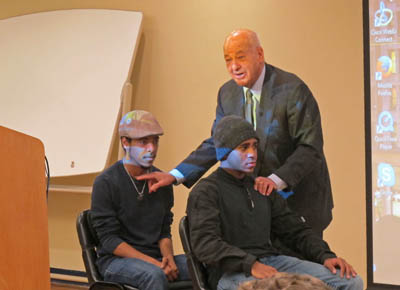 Wecht reenacts the J.F.K. assassination with two Point Park students.

"This was a real eye-opening experience for me. My favorite part was when Dr. Wecht illustrated the path of the bullet and pretty much debunked the single bullet theory in 30 seconds," remarked Matthew Coleman, a senior criminal justice major.
Wecht talked about the events leading up to Kennedy's assassination. "If you want to understand history, you've got to know what really took place," advised Wecht.
He also discussed the intricate details of the shooting, the forensic pathology work done on Kennedy and the standard process for performing autopsies on gunshot victims.
"Dr. Wecht taught me that nothing is ever as it seems. He gave a wonderful presentation on the J.F.K. assassination and I like that he interacted with us," said Amanda Evans, a senior criminal justice major.
More About: intelligence and national security, student workshop, criminal justice, forensic science