more news
Point Park Hosts Career Event with Government and Law Enforcement Agencies
Tuesday, April 9, 2013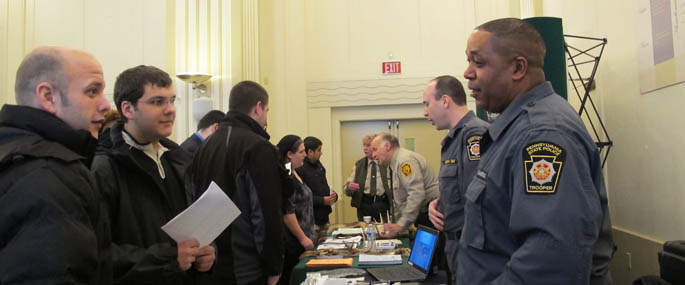 A variety of government and law enforcement agencies throughout the region and state recently spent the day on Point Park's campus for a career event hosted by the University's Department of Criminal Justice and Intelligence Studies and Career Development Center.
"Students had the opportunity to meet police officers, probation officers and recruiters from the local and state levels," said Gregory Rogers, J.D., professor and chair of the Department of Criminal Justice and Intelligence Studies. "We host the only event like this in southwestern Pennsylvania."
More than 300 students, including those as far away as North Carolina, came to the event.
Employers in attendance included:
Allegheny County Police Department
Pittsburgh City Bomb Squad
Pennsylvania State Police Bureau of Liquor Enforcement
Pennsylvania State Civil Service Commission
Allegheny County Housing Authority Police Department
The Pennsylvania Game Commission
Pittsburgh City Civil Service Commission
Allegheny County Sheriff's Office
Also present were representatives from various specialty positions within the Pennsylvania State Police including criminal investigations, forensic services, motorcycle patrol, special emergency response team, the canine unit and more.
"We are here to recruit interns and future law enforcement professionals," said Point Park alumna Jennifer Steffee, a criminal records analyst for the Allegheny County Housing Authority. "It's great to be back on campus. I've enjoyed talking to the students about the variety of career opportunities in the criminal justice field and would love to speak to a class sometime."
Steffee earned a bachelor's degree in criminal justice and a master's degree in criminal justice administration, both from Point Park.
"I came to the event today to explore my options. My career goals are to work for the state police or U.S. Marshals Service and possibly go to law school," said Steve McKenna, a senior criminal justice major.
Junior criminal justice major Jessica Yanavitch attended the event because of her desire to work in law enforcement.
"I've already talked with several employers today. One of the interesting things I learned is that there are undercover operations positions within the Pennsylvania Police Bureau of Liquor Enforcement," remarked Yanavitch.
Robin Mungo, community services officer for the Pennsylvania State Police, came to the event to meet with students and discuss the pathway to becoming a Pennsylvania State Trooper.
"Criminal justice is a great, rewarding profession. I love it," said Mungo. "I encourage anyone who is up for the challenge to pursue it. It's an opportunity to be a part of the solution, not the problem. And it's a way to give back to society."
More About: M.S. in criminal justice administration, Internship and Job Fair, intelligence and national security, Career Development Center, student workshop, criminal justice