more news
Law Enforcement Career Day to be Held at Point Park on March 27
Monday, March 11, 2013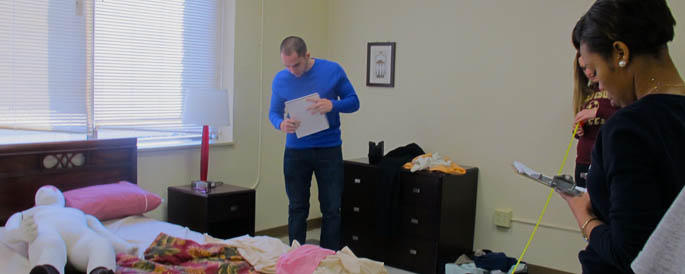 Point Park forensic science majors investigate a mock crime scene in the CSI House on campus.

Point Park University's Department of Criminal Justice and Intelligence Studies and the Career Development Center will be hosting a Law Enforcement Career Day with the Pennsylvania State Police on March 27, 2013 from 9 a.m. to 2 p.m. in the Lawrence Hall Ballroom.
Pittsburgh area college students of all majors are invited and will have the opportunity to network with recruiters and law enforcement professionals working in a variety of fields such as state and county police, corrections and forensic services.
In addition, the Pennsylvania State Police's Special Emergency Response Team will have its vehicles, motorcycle, patrol car and one of its canines on site for attendees to see.
"This unique event will showcase many of the resources and exciting jobs available in Pennsylvania within the criminal justice field," said Gregory Rogers, J.D., chair of the Department of Criminal Justice and Intelligence Studies.
For more information on the event, contact David King at dking@pointpark.edu or 412-392-8136.
More About: criminal justice, Career Development Center, Internship and Job Fair, forensic science