more news
Intelligence and National Security Graduate is Point Park's 2015 Outstanding Student Leader
Thursday, May 7, 2015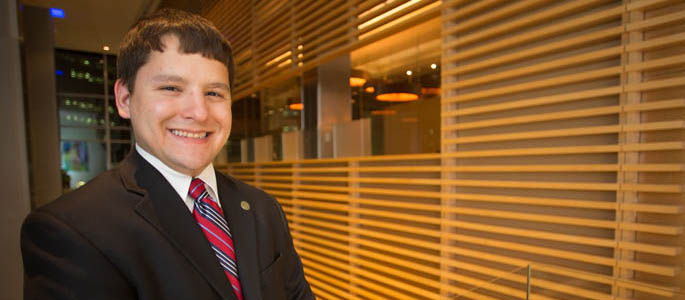 Meet Andrew LeDonne
Degree earned: B.S. in Intelligence and National Security, 2015
Hometown and current residence: New Brighton, Pa.
High school: New Brighton Area High School
College activities: Treasurer and vice president of United Student Government, member of the Pittsburgh Student Government Council and member of the Society for Intelligence and National Security
Internship/volunteer work: Analyst intern for the Pittsburgh Office of Emergency Management and Homeland Security, volunteer firefighter for the New Brighton Fire Department and member of the Beaver Falls Swift Water Rescue Team
Hobbies/Interests: Woodworking, hunting, fishing, the outdoors, building models and following current news

Andrew LeDonne was named the 2015 Outstanding Student Leader at Point Park's Outstanding Student Awards banquet April 24. This award is presented to a student who has demonstrated outstanding leadership within a student organization and, as a result, has impacted the campus community as a whole and helped to make it a better place. Below is a quote from one of his nominators.
"Andrew has been a fixture of student leadership at Point Park since I started working here. Funneling his energy into USG, I have seen him serve as senator, treasurer and vice president of the organization. Andrew takes the concerns of his fellow students to heart, and I have seen him selflessly fight for what he believes is in the best interest of the students. His leadership is one that goes beyond just the students he's worked alongside and inspired, but is the unique kind that will truly leave a legacy at our University for years after he graduates." - Brad Kovalcik, coordinator of student activities
Why did you decide to become a student leader?
I enjoy getting involved with student government and having a say in what the University does for its students and what the students can request from the University. I was involved in some activities in high school but I definitely became more involved when I came to Point Park.
Why did you choose Point Park?
Only a few colleges in the country offer an intelligence and national security program like Point Park does. At the time I was looking at colleges, a friend of mine was enrolled in the program and recommended it to me. I also liked that it was close to home.
What did you like most about serving as the vice president of USG?
It was a great experience being one of the highest voices of the students on campus and facilitating interaction among students, faculty and administration. I enjoyed working with all of these groups to solve student issues and prevent other issues from arising.
What advice do you have for our national security and intelligence students?
Strive to do a lot of learning on your own and gain experience outside of the classroom. Don't be afraid to challenge authority and stand up for what you believe.
What's next for you?
I hope to land a position within the federal government. I'm currently applying for various national security jobs. I'm open to moving to Washington, D.C., or wherever my career takes me.
Final thoughts?
Students should get involved on campus as much as they can. The connections you make and the name you make for yourself is important. What you think is geeky now will not be geeky later.
More About: Outstanding Student Awards, United Student Government, intelligence and national security, New Brighton Area High School