more news
Alumnus Ian Lupo Promoted to Electrical Engineer Upon Graduating from Point Park
Thursday, April 2, 2015


Meet Ian Lupo
Job title: Electrical Engineer
Employer: Industrial Scientific Corporation
Degrees earned: Bachelor of Science in Electrical Engineering Technology, Point Park University, 2014, and Associate in Science, Electronics Engineering Technology, Pittsburgh Technical Institute
College activities: The Body Christian fellowship
Hometown: Metz, W.Va.
High school: North Marion High School
Now living in: Pittsburgh, Pa.
Hobbies/interests: Mountain biking
LinkedIn: Ian Lupo
Why did you choose Point Park's electrical engineering technology program?
I chose Point Park for its accredited electrical engineering technology program and convenient class schedule. It was important for me to be able to get into a classroom and do some hands-on learning.
Tell us about your job promotion.
Upon graduation, I was promoted from a senior electro-mechanical technician position to an electrical engineer. I wasn't eligible for the electrical engineer position until I had received confirmation that I completed my bachelor's degree from Point Park.
What are your key responsibilities at Industrial Scientific Corporation?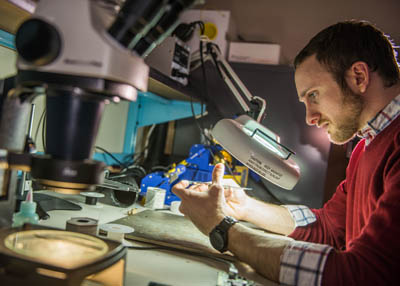 I'm responsible for new product development and making sure our products meet UL Intrinsic Safety Standards. Following these standards make the design work interesting and challenging.
Describe the teaching style of Point Park's professors.
In class, the engineering technology professors at Point Park always referenced their previous job experiences and pointed out the relevance of our course work to the industry. They always wanted us to get the most out of our classes.
What are your career goals?
I see myself potentially getting an M.B.A. in the future. Right now, I'm enjoying new product development and the challenges it brings. As long as I continue to challenge myself and learn new things, I'll be happy no matter what I'm doing.
More About: success story, engineering technology, electrical engineering technology, North Marion High School, alumni