This summer season, don't distance yourself from learning. Join us for one of our many free virtual sessions.
Register Here.
Theatre Intensive
Join us from June 22 - July 11, 2020 in the Award winning Pittsburgh Playhouse

Due to COVID-19, all on-ground and residential programming has been cancelled for the 2020 summer season. The health and safety of our community is important to us.
Read more
. 
This experience will be offered again in the summer of 2021 and registration will be available within the coming months.
In the meantime, be sure to join us for one of our many FREE virtual sessions in cinema, dance, music, communications and more. Register here.
Students at Point Park's High School Summer Theatre Intensive receive comprehensive training in a professionally oriented 3-week program.
Students attend classes and workshops five days each week, specializing in one of three areas: Acting, Musical Theatre or Stage Management and Design/Technical Theatre. Each program offers specialized, hands-on instruction and mentoring from the highest quality teachers and industry professionals.
All programs are based on collaboration, active participation and personalized instruction offered in a rigorous and supportive environment. 
Students must be a high school student entering grades 9-12 as of Fall 2020. 
Acceptance into the program is by video audition only. Candidates will be notified on a rolling basis by email of their acceptance status. The program is only available to the first 40 participants who are accepted and then paid in full. Please apply early to ensure a spot!
Please note, to live on campus in a residence hall, students must be at least 14 years old.
To apply, please visit our Accept'd page: 
Overview: 
Video auditions must be submitted through our partnership with Accept'd, the world's largest arts network. 
*Students are expected to present a professional appearance. Loose clothing, sweat-warmers, skirts and leg warmers are not permitted. Applicants need to secure long hair in a bun.
Video Audition Fee: 
All video auditions will be charged a $30.00 fee due upon submission. This payment will be collected via Accept'd by debit or credit card. 
Video Submission (due by April 30, 2020): 
Standard Requirements for ALL Concentrations
Video Essay: A 1-minute video essay introducing why you should be considered for this program
Resume: A one-page professional resume
Musical Theatre Concentration
Standard Song: A Broadway standard song of 32 bars or less with or without piano or other accompaniment.
Movement Sample: A 1-minute sample of movement or dance representative of skill level.
Acting Concentration
Acting Monologue: An age appropriate monologue not to exceed 1 minute in length
Stage Management and Design/Technical Theatre Concentration 
Technical Portfolio: Submit a portfolio of at least 5 images showcasing project experience
Our Theatre Intensive is a 3-week program open to commuters and residents. Students must attend all three-weeks. Partial weeks are not offered at this time.  
Important Dates:
Residential Check-In: Sunday, June 21
Commuter Check-In: Monday, June 22
Program Runs: June 22 - July 11
Showcase Performance: Saturday, July 11,

Time:

TBA
The intensive culminates in a public showcase presented at the Pittsburgh Playhouse for family and friends during the final week of the program. Design/Tech students assist in designing and presenting the final stage showcase while collaborating with stage/production managers. 
Further schedule information will be released soon!
Acting
A conservatory-style training program that offers a strong foundation in the art and craft of acting. Students receive comprehensive training in acting, dance, voice, and stage combat. Taught by Point Park faculty and industry professionals, this intensive of study emphasizes the creative process and includes instruction in script analysis, improvisation, scene & monologue work, stage combat, and Shakespeare verse techniques. 
Musical Theatre
This intensive, conservatory-style program focuses on acting, dance, individual voice lessons, interpreting music and lyrics, and audition technique. Taught by Point Park faculty and industry professionals, this intensive program of study is for the serious student of Musical Theatre and emphasizes technical skill development and professional preparation.
Stage Management and Design / Technical Theatre
Housed in the award-winning Pittsburgh Playhouse, this program offers students the unique opportunity to work and study in our world-class facilities, including production & design labs; scenic & prop shops; and light & sound studios. Our students work closely with our professional Playhouse staff members in the area of Technical Theatre; Scenic, Light, Sound and Costume Design; and Stage Management.
Welcome to our campus!
All classes will be held on campus at Point Park University. 
Check-in will take place at the Pittsburgh Playhouse.
Address:
Point Park University
Pittsburgh Playhouse
350 Forbes Ave
Commuter Students
Tuition: $2,500
Includes a daily buffet lunch. 


Resident Students
Tuition + Room / Board:

 
$4,500
Includes three meals on weekdays; brunch and dinner on weekends. Plus housing in a residential dorm.

Please note: Artistic merit scholarships are available. Each student will be considered and evaluated when their application is sent in. Scholarship amounts will range from $100 to $500. Scholarships are good towards tuition costs only. Room and board are not applicable. 
The option to live on campus during the Theatre Intensive is available to students at least 14 years old. Students should be 14 years old prior to the start of the program. 
Each residence hall has multiple points of secure access to student living areas, such as keycards, access codes, and lock and key. Theatre students stay in Conestoga and Pioneer halls.
Adult resident advisers live on campus to supervise students who are minors. Each adviser is responsible for eight to ten minors. Parents of participating students may apply to serve as a resident advisor. A limited number of positions are available and more information will be available soon.
As an undergraduate student at Point Park, you'll have access to opportunities only a world-class city can offer — and few universities can match — for a real-world, career-oriented education.
Consider a B.F.A. degree in theatre arts, acting, musical theatre or theatre production. To learn more, visit our Theatre Webpage.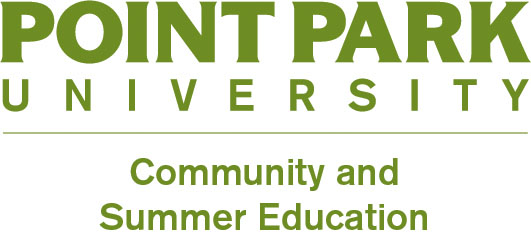 Contact Information:

Phone: 412-392-3457

Email: 
summercamps@pointpark.edu
(Include "Theatre Intensive" in the subject line of emails)