more news
Point Park Students Learn Networking and Etiquette Skills at Annual Event
Monday, February 10, 2014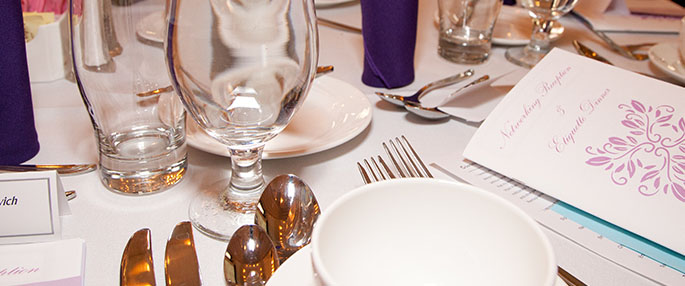 Conversation skills and table manners are key to making a good first impression. For students hoping to land internships or jobs, these skills are even more critical.
Each year, the staff of Point Park's Career Development Center hosts a popular "etiquette dinner" to teach students the rules for meeting and dining in a business setting. This year's event, held Wednesday, Jan. 29, in the Lawrence Hall ballroom, attracted more than 80 students dressed in business attire.
Representatives from 19 area employers, including Steeltown Entertainment Project, Northwestern Mutual Financial Network and the Cystic Fibrosis Foundation, attended the dinner as well. Employers mingled with students during the pre-dinner reception, which gives students practice balancing appetizers and sparkling juice "mocktails" while networking.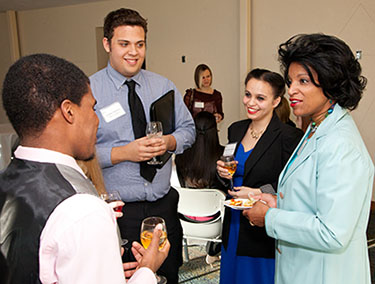 Point Park students practice their networking skills.

"The number of attendees grows each year," said Amy Bittner, coordinator of counseling services in the Career Development Center. "For the first time, we had a student wait list this year."
Microphone in hand, Bittner coached students as each course was served, explaining the etiquette of eating bread, French onion soup, lettuce wedge salad, sorbet, pasta, green bean almandine and a dessert of apple dumplings and ice cream.
"The networking opportunity was great because I am looking for internships," said Roxanne Grundmeier, a junior sports, arts and entertainment management major from Schaller, Iowa. "I also thought it would be a good idea to brush up on my etiquette or learn new things before I start interviewing for important jobs."
Chloe Detrick, a graduate student in the clinical-community psychology program, enjoyed chatting with recruiters over dinner. "I'm finding out more and more that is extremely beneficial to have as many connections as possible when you are looking to advance your career," she said.
"Also, I thought I understood basic table etiquette for higher-class restaurants, but I realized I had a lot to learn," said Detrick. "So many utensils!"
Senior advertising major Ryan Black was initially reluctant to attend the event, but followed his parents' advice to register and pay the $5 fee. "It was a good chance to practice networking skills and learn how to just jump in and start a conversation with someone," said Black, who transferred to Point Park after attending Westminster College for a year.
"Point Park had the best vibe," he said. "I liked that it is right in town."
Photos by Ralph Musthaler, senior photojournalism major.
More About: student workshop, Career Development Center