more news
Students Network with More than 100 Employers at Annual Internship and Job Fair
Friday, October 31, 2014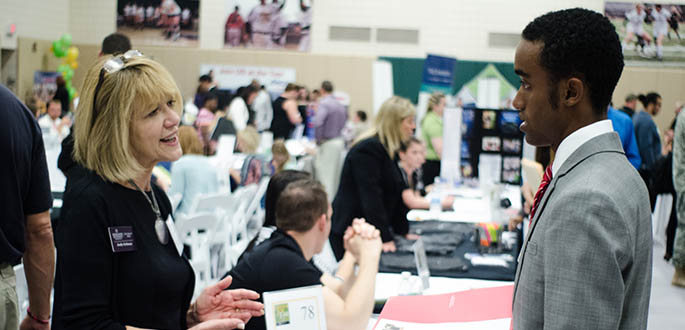 A student meets with an employer from Berkshire Hathaway HomeServices at the annual Internship and Job Fair.

Dressed in professional attire with their resumes in hand, Point Park students had the opportunity to network with more than 100 employers representing a variety of industries at the sixth annual Internship and Job Fair. Held during the fall 2014 semester in the Student Center, the event was sponsored by Point Park's Career Development Center.
Employers representing American Eagle Outfitters, Dollar Bank, Glade Run Lutheran Services, Ketchum, Pittsburgh AIDS Task Force, Pittsburgh Public Theatre, Pittsburgh Steelers, Steel City Media and UPMC, among others, were eager to meet with students seeking an internship, a part-time or a full-time position.
"This is our first year at the fair and we are seeking candidates that are self-motivated, willing to learn and not averse to taking risks," said Jeff Dellovade, P.E., who works at A.C. Dellovade, Inc.
Senior civil engineering technology major Colston Cooper is seeking a summer internship.
"Before the fair, I looked online at the list of employers attending to find out who I was interested in talking to and to check out their internship listings. This fair is a great way to meet hiring managers in person and network with them," said Cooper.
Elizabeth Naccarato, human resources associate at the Barber National Institute, shared her advice for students seeking an internship or a job.
"I think doing your research on a company and knowing the position you are applying for is so important. When you meet a potential employer at these types of events or during an interview, be positive, confident and ask good questions," said Naccarato.
Amanda Duchek, public relations and social media specialist at S. Stray Publishing, encouraged students to use the fair as a first step in building their professional network.
"Stay in touch with the people you meet at the internship and job fair to create a professional relationship. Send a follow-up email to thank them for their time," Duchek said. "After I completed one of my internships several years ago there were no openings when I left, but I stayed in touch with my supervisor and when they had an opening they contacted me," Duchek said.
Added Cooper, "I'm confident that the engineering classes have prepared me for the different skills I will need to land my first job."
More About: Career Development Center, Internship and Job Fair, internships, civil engineering technology