more news
Students Enjoy Learning Dining Etiquette With a Side of Professional Networking
Friday, April 7, 2017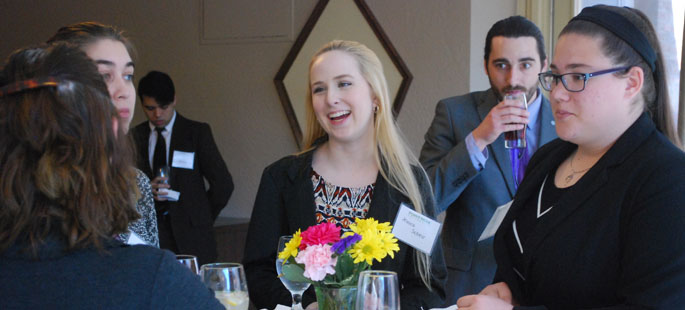 For students looking to land internships and jobs, excellent etiquette is essential.
Point Park University's Annual Etiquette Dinner allowed more than 50 students across all majors to network with employers while practicing their dining etiquette over appetizers and a gourmet meal.
The on-campus event held March 29 was sponsored by the University's Career Development Center and Campus Activities Board.
"This was a great way for students to learn first hand the dos and don'ts of etiquette which will help prepare them for future interviews or meetings that occur over a meal. Employers want to see how potential hires will act with clients in social situations so it's important to appear polished and professional," explained Angela Scaramucci, director of the Career Development Center.
Students also practiced their networking skills with employers at the event including Urban Innovation 21, SingleSource Property Solutions, Huth Technologies, the Children's Homeless Education Fund and Tickets for Kids before and during the meal.
Why did you attend the Etiquette Dinner?
"I felt this event would provide a chance to meet and mingle with new people. Also, two of my professors highly recommended this to me because it would serve as a good learning experience for situations I will be encountering in my future career." - John Blattenberger, junior sports, arts and entertainment management major from Saltsburg High School in Saltsburg, Pa.
"I am starting to apply for internships so I wanted to make sure if I'm asked for an interview over a meal I make a great lasting impression." - Samiar Nefzi, sophomore broadcast reporting major from West Greene Middle-Senior High School in Waynesburg, Pa.
"I knew it would be a great chance to network with potential employers and learn how to appropriately dine during an interview or networking opportunity." - Jess Paterchak, sophomore broadcast production and media management major from Blackhawk High School in Beaver Falls, Pa.
What was something new you learned?
Blattenberger: "For me, the biggest takeaway from this event was simply learning how to conduct yourself when faced with a potential intimidating situation. Body posture and positioning specifically stood out to me. It's not always just about what you say verbally, but also how you present and conduct yourself physically through proper body language."
Nefzi: "I never knew there was a proper way to drink something as simple as water. I learned about proper hand placement for that."
Paterchak: "I learned how to handle myself and have fun in a professional networking type of setting while also learning how to use silverware appropriately. It was a lot of fun and not scary at all!"

Photos by Sydney Patton, sophomore sports, arts and entertainment management major
More About: broadcast reporting, broadcast production and media management, sports, arts and entertainment management, Career Development Center, Campus Activities Board, internships, student workshop