more news
'Student Choreography Project' Offers Dance Students a Unique Learning Experience
Wednesday, November 12, 2014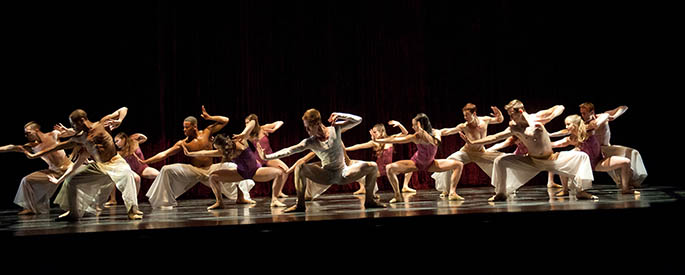 Interactive video: Click on the image above for an interactive viewing experience that gives you a 360-degree view and allows you to independently control the camera to watch an archived version of the Student Choreography Project.
Holding auditions, casting dancers, running rehearsals, making costume decisions and collaborating with classmates outside of their major are all a part of the experience for Point Park dance majors producing the Student Choreography Project, a showcase of original choreography by the conservatory's top students.
Showreel: SCP 2014
"I'm really enjoying my time here and would recommend the dance program to anyone looking to grow and be exposed to different things," said Brianna Conrad, a sophomore dance major. "This show was a great example of the diversity that Point Park offers us."
Dance students producing the Student Choreography Project have the unique opportunity to experience firsthand what it takes to create a show from start to finish, instruct their peers and work with technical theatre majors who coordinate lighting design and stage management.
"It's so fun getting to know the people you dance with every day. I enjoyed my experience and since it was my first show, I was very thankful for the opportunity," said Alexandra Newkirk, a sophomore dance major.
Behind-the-Scenes: SCP 2014
This year's show featured two separate programs with works by 27 choreographers. New this year, Point Park teamed up with C360 Technologies of Wexford, Pa., who simulcasted the show, offering a unique and interactive viewing experience that allowed users to independently control the camera from their living rooms and watch the performance.
"The simulcast was a great idea. It was simple enough that my grandparents could use it," said dance major and choreographer Jacqueline Dennis. "It would be great if this is something that could happen for every show."
Learn More
Auditions and Interviews
Meet Dance Faculty
Apply Online Now
Text by Annie Tomak, a sophomore public relations and advertising major
More About: theatre production, dance, Student Choreography Project