more news
M.F.A. Students Explore Creativity and Dramatic Storytelling During Low-Residency Program
Tuesday, September 15, 2015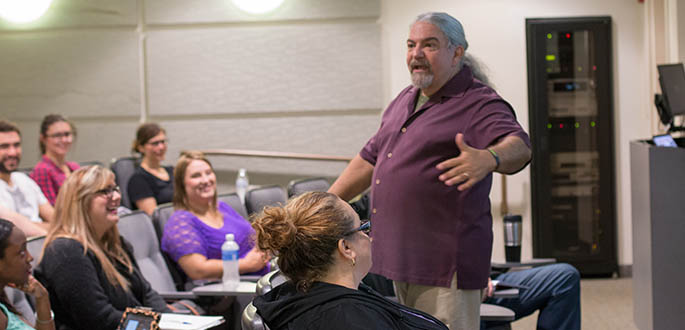 Guest artist Don Marinelli leads a seminar on the video game industry in the University Center.
Point Park M.F.A. students explored creativity and dramatic storytelling at this year's low-residency screenwriting and playwriting program, held July 28-Aug. 7 for second-year students, and Aug. 2-7 for first-year students on campus.
New this year, second-year students had the unique opportunity to participate in the Contemporary American Theater Festival in Shepardstown, W.Va.
"My favorite part of the residency was the staged reading our writers had at the festival. Each writer picked a section from their script and had a chance to hear the piece read by professional actors in front of an audience," said Matt Pelfrey, M.F.A. graduate program director and assistant professor. "Dramatic writing is meant to be spoken aloud, and until a writer hears the words on the page acted, it's impossible to know if the writing is working or not."

Back on campus, all the students attended seminars exploring such topics as:
Dramatic storytelling elements;
Creating characters who audiences attach to;
Developing character and scene;
Approaches to screenwriting and playwriting; and
Improvisation and alternative approaches to playwriting.
Other highlights of the program included a seminar about TV story structure led by Ellen Sandler, co-executive producer of Everybody Loves Raymond and author of "The TV Writer's Workbook," and an overview of the video game industry and challenges of non-linear narrative by Don Marinelli, retired co-founder/executive producer and professor of the Entertainment Technology Center at Carnegie Mellon University.

"Ellen Sandler did a stellar job demystifying the craft of television writing in her pilot workshop, and Don Marinelli had us spellbound, laying on his every word," said Lorenzo Boone, a second-year M.F.A. student.

Added Pelfrey, "The students left the M.F.A. residency knowing they were surrounded by a fellow group of writers who all share the same passion and drive. They left knowing they are not alone and that their writing dreams had the support of the other students in the program. Our students know they have a community they can bounce ideas off of, and share material with."


What students are saying about the M.F.A. program
Check out what our second-year students have to say about Point Park's M.F.A. in screenwriting and playwriting program.


Shirley Felder
"I like the flexibility of the online M.F.A. program and have really enjoyed the residencies. I've learned about myself, my writing and the real difference between a single story script and a pilot. My advice to a prospective student is to stay true to yourself by writing in your own voice and read a lot of scripts, plays and television specs."

Alan Stevens
"Besides the amazing education and wonderful workshops, the most rewarding experience for me has been bonding with my classmates. We have cultivated a creative spirit and I feel safe sharing my work with them. They inspire me to be a better writer. This program has allowed me to explore myself as a writer and my abilities."

Brittany Stahl
"We have been extremely lucky as a class to have had some exceptional guest lecturers and professors during our residencies to provide us with first-hand knowledge of our intended field. The people who I've met through this program have helped me grow as an artist and person in ways I could have never foreseen. Be open to anything, you never know where you'll find your voice."

Lorenzo Boone
"What I like the most about the M.F.A. program is that we are being trained in film, stage and television. That versatility will serve us well upon graduation. I have never learned so much in such a short window of time in my entire life. I've gained significant insights from the reading of discussions and works of my fellow cohort. They are truly a talented group of writers. I would be remiss not to mention the extremely talented faculty that we are blessed to study with."
Photos by Victoria A. Mikula, a junior mass communication major
More About: M.F.A. in Screenwriting and Playwriting, cinema arts, Low-residency program, guest artists