more news
Faculty Q&A: Meet Ruben Graciani, Chair and Associate Professor of Dance
Friday, July 10, 2015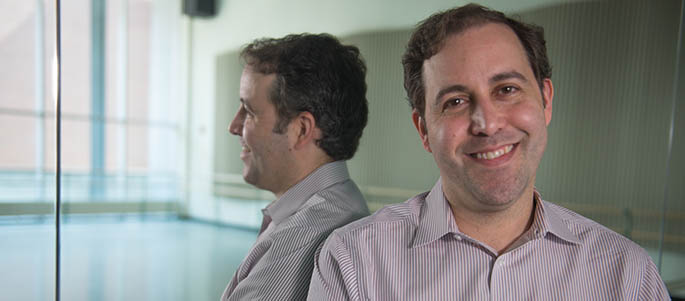 Ruben Graciani studied dance at the University of Maryland and State University of New York, Purchase College - earning a B.F.A. and an M.F.A. Graciani is excited to begin his second year as an associate professor and chair in the dance department at Point Park University.
What is your approach to teaching?
I set the bar very high. The level of expectation I have is that every student is going to perform to their best ability to maximize their potential, with the understanding that sometimes we have bad days and we have to learn how to recover. How you handle a bad day is also a development of your character. In my class you can expect to sweat a lot, you can expect that you are going to be tired at the end of class, and there will be a lot of rigor based on technical principles, but also a lot of expectation on you developing as an artist.
Video: Meet Ruben Graciani
---
Related links
What courses do you teach?
Composition
Contemporary Modern Dance
Contemporary Partnering
How do you incorporate your real-world experience into the classroom?
I incorporate the technical knowledge of the artistic experiences and the mentorship that I received from so many artists and I try to bring that into the classroom. One of the things I like to tell students is that not every place and not every experience is right for you, but what you can do is take that experience and learn from it. My first college experience was at The Julliard School, but I realized it wasn't the right place for me. I learned so many amazing things there and I have that experience to take with me always.
I try to bring the passion for action, the passion for dance and the joy of movement into the studio every day. It's not just about the performance; it's about the hard work and the sweat equity that you build up in every studio day and every rehearsal. That's the value; it's the path not just the destination.
What's it like teaching in Downtown Pittsburgh?
Downtown Pittsburgh is awesome. For someone who has lived in New York City, Washington D.C., San Francisco and upstate New York, this town is amazing. It's really vibrant and there's so much art and culture. I love the energy when I come to work, not just from the students, but also from the city. It's really encouraging.
What is your vision for Point Park's dance program?
My vision for the dance program is that we become the leading institution to train professional dancers and professional arts-thinkers. We have a B.A. and a B.F.A. program both for academic-and-performance-minded students. We need to be on the forward-thinking edge of the dance world, conservatory programs are tradition based, and sometimes we get stuck in old traditions. I would like to see us keep those traditions, take the value of those traditions, and be on the forward-thinking edge of dance entrepreneurship, choreography and think about how are we producing artists and dancers who are really versatile in the dance world.
What else would you like to share?
I'm super happy to be here and I think that Point Park is a really special place. For any student who wants to find their way in the dance world, this is a place where you can get a rich foundation and all the experience you need to be competitive.
I'm also thrilled to be working among these extraordinarily talented faculty members in the Conservatory of Performing Arts and even more talented and ambitious students - they make my job very easy.
More About: Conservatory of Performing Arts, dance, faculty, Downtown Pittsburgh