more news
Dance and History Grad Spends Five Months in Israel Dancing and Studying Culture
Friday, October 4, 2013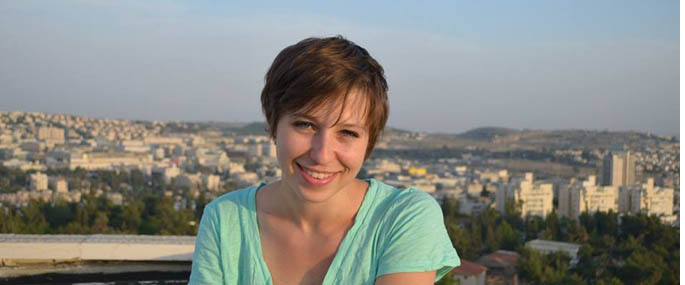 Jones is pictured in San Simon, Israel
Meet Nicole Jones
Degree Earned: Bachelor of Arts in dance and history
Graduated: May 2013
Hometown: North Huntingdon, Pa.
High School: Norwin High School
College Activities: Dance club, community facilitator for Office of Campus Life and work study student for the Career Development Center
Hobbies/Interests: Dance, art, theatre, music, coffee, communities and cultures, Pittsburgh's Gallery Crawl, Pittsburgh and global politics
Tell us about the five months you spent in Israel.
My trip to Israel was a once-in-a-lifetime opportunity. While my primary purpose for being in Israel was to dance with the Vertigo Dance Company through Masa Israel Journey, the experience proved to be so much more.
I participated in engaging historical and cultural tours throughout the country including partaking in major cultural and religious holidays. One of the things I appreciated most about Israeli culture was the observance of Shabbat, or the Sabbath.
I danced mainly in Jerusalem at the Gerard Bachar Center, and at the company's main location, the Eco-Arts Village, which was outside Jerusalem. The studio's location overlooks the historic location where King David defeated Goliath.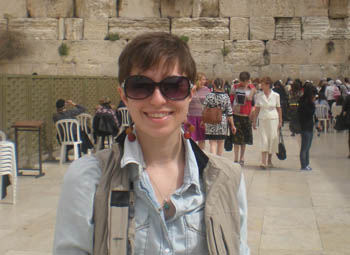 Jones poses in front of the Western Hall in Old City, Jerusalem

My favorite thing about my trip to Israel (aside from dancing, traveling and the people), would be the food. I can't begin to explain how simply AMAZING the food was! As a dancer, I have a huge respect for my body and recognize what I choose to eat will be contributing to what I create dancing.
One of the things that affected me the most was the incredible hospitality of the Israeli people. During my trip I became ill and was selflessly cared for by the other international students and my Israeli roommate. I have never met such selfless hospitality in my life. This is a cultural characteristic of Israeli people, which I happily brought back with me.
How did you find out about this opportunity?
I found out about this opportunity from attending the American Dance Festival in North Carolina last summer. The Vertigo Dance Company performed there, and I was captivated by the movement quality of the dancers and the company's mission. After taking a master class taught by two of the company's choreographers and artistic directors, I inquired about the international dance program and was later accepted into the program for February 2013.
What factors made you choose Point Park?
When I originally chose Point Park, it was for the dance department. Aside from being one of the top dance universities in the country, I liked that Point Park gave students the opportunity to train in ballet, jazz and modern and that dance majors could audition to perform in musical theatre shows. These two things I could not find offered in many other dance programs.

Also, there's something special about Point Park's campus I did not find at my other auditions. As soon as I arrived, I felt a warm, friendly welcome from students, staff and faculty and a safety within the campus' buildings. I also loved how the campus was situated in the heart of Downtown Pittsburgh.
Jones performs at the Vertigo Dance program's Masa student
performance. Photo by Avi Ben-Zeev
Why did you decide to double major in dance and history?
I knew I wanted to earn two degrees, but it wasn't until my junior year I began pursuing history - a subject I have adamantly loved since I was inspired by my AP U.S. history teacher in high school. My sophomore year at Point Park I took Professor Ron Hutson's dance history class and found it to be fascinating and engaging. At that point, I decided to double major in hopes of continuing my education someday for a master's in dance history. I love Point Park's history program because it gives students the ability to cater their history degree to exactly what they want to study.
How did Point Park's dance program prepare you to perform with Vertigo Dance Company?
Point Park's dance program prepared me in several ways. Prior to Point Park, I primarily received ballet training. Point Park taught me the basics of modern and jazz, opening a gateway to all the areas dance has to offer. Point Park's dance department taught me how to pick up material quickly and meticulously through classes and auditions, paying attention to details (something I needed when English was not the language the choreography or class was being taught in). I learned how to take correction and self-teach through the rigorous class structure offered to dance majors. Most importantly, Point Park taught me how to work in a professional manner with all people.
What advice do you have for students considering studying abroad?
Do it! It's a once-in-a-lifetime opportunity that can open doors you might never know were there. Having study abroad experience in any field makes you incredibly marketable for jobs because employers like to see that you are a versatile individual. Also, studying in another country teaches you things such as culture norms and honing your communication skills that you simply cannot learn from staying in the U.S.
What are your career goals?
My career goals are to be hired under contract with a paying professional dance company. Point Park has given me the tools to do this by providing me with a firm technical foundation in dance and teaching me the value of artistry. Through Point Park's Career Development Center and Office of Campus Life, I gained confidence in my networking skills, which is essential in finding jobs in the dance world.
More About: dance, Career Development Center, study abroad, Downtown Pittsburgh