more news
Conservatory Dance Presents Contemporary Choreographers
Tuesday, November 12, 2013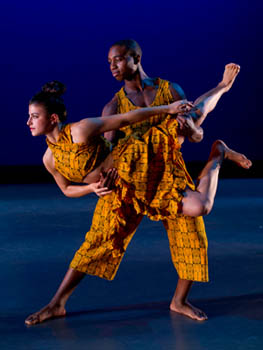 Point Park University's Conservatory Dance Company presents Contemporary Choreographers Nov. 15-17 and Nov. 22-24 in the George Rowland White Performance Studio.
This annual concert welcomes four cutting-edge choreographers from around the country to stage contemporary works in a variety of dance styles.
"At Point Park, our students meet the professional world at a crossroad where young developing artists meet professional choreographers and artistic directors every semester. There is no waiting game; students are treated like professionals and are expected to meet the same criteria expected in the profession," said Assistant Professor Garfield Lemonius.
Conservatory Dance Company will perform:
Continuous Relation by Kyle Abraham; rehearsal direction by Garfield Lemonius, assistant professor
Journey by Randy Duncan; rehearsal direction by Jill Randolph-Lazzini, adjunct instructor
Whip by Brian Enos; rehearsal direction by Jay Kirk, associate professor
Fatum Inflictum by Terence Marling; rehearsal direction by Jason McDole, visiting guest artist
Contemporary Choreographers runs Nov. 15-24, Friday and Saturday at 8 p.m., and Saturday and Sunday at 2 p.m.
Ticket information
Tickets range in price from $18-$20; student tickets are $7 or $8; senior tickets (65 and older) are $9 or $10, depending on performance date. Tickets can be purchased by calling the Pittsburgh Playhouse box office at 412-392-8000, or online at www.pittsburghplayhouse.com.
Learn more
Learn more about auditioning or interviewing for Point Park University's Conservatory of Performing Arts.
In the news
More About: Conservatory Dance Company, Conservatory of Performing Arts, dance