more news
Conservatory Dance Company Presents Nicolas Petrov's 'Romeo and Juliet'
Wednesday, December 4, 2013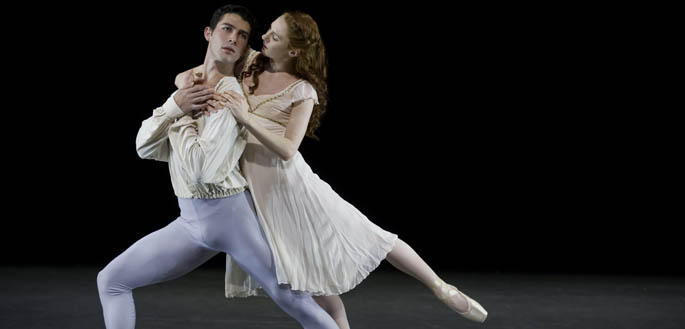 Point Park University's Conservatory Dance Company honored Professor Nicolas Petrov with a full-length production of Sergei Prokofiev's Romeo and Juliet, Dec. 10-15 at the Pittsburgh Playhouse.
Petrov, a renowned choreographer, retired at the end of the fall 2013 semester after more than four decades at Point Park. He first choreographed Romeo and Juliet for the Pittsburgh Ballet Theatre in 1971 at Heinz Hall. It was the first American production of Prokofiev's work.
Romeo and Juliet featured more than 50 Conservatory of Performing Arts students. Seniors Oscar Carrillo and Charlotte Ahlstrom played the leading roles.
"The variety of dance teachers I've had at Point Park have physically and mentally prepared me to handle playing this role," said Ahlstrom, a dance major with a ballet concentration.
Carrillo, a dance major with a concentration in jazz and ballet, credited Point Park's dance program for preparing him to play Romeo.
"Point Park has taught me that no matter what kind of dancer or what style of dance you would like to focus on in your career, that it is very important to be a versatile dancer to succeed in the real world," he said.
"I hope that this production will remind Professor Petrov that his love for ballet will never be forgotten, and that his passion will be perpetuated through his students," added Ahlstrom.
In the News
More About: faculty, dance, Conservatory Dance Company, ballet