more news
School of Communication Students Travel Abroad to Study Media Landscape in Germany
Friday, June 28, 2013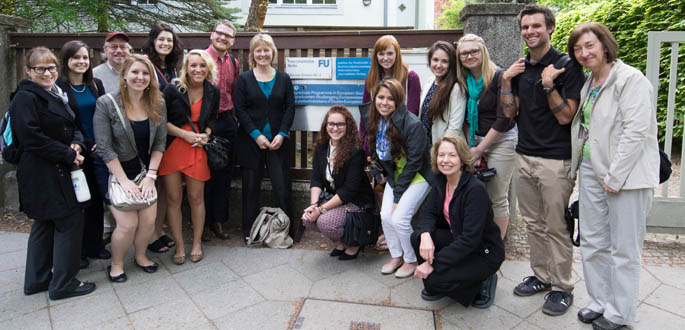 Point Park University students and faculty at Freie University of Berlin.
School of Communication students and faculty enjoyed 12 days in Germany learning first-hand about the media, history and culture in Munich, Berlin and Salzburg. The educational trip is part of the spring semester International Media class, which combines classroom preparation in the spring and study of media in a designated country at the end of the semester.
While abroad, the group of 11 students and four faculty members attended lectures about the influence of the media on the German people during World War II and the fall of the Berlin Wall. They met with industry professionals at Die Welt (newspaper), Süddeutsche Zeitung (newspaper), Deutsche Welle (international broadcaster), Deutsche Presse-Agentur (news agency), ZDF Hauptstadtstudio (television), Ketchum Pleon (public relations agency), Freie University, Munich Tourism office and the BMW Munich headquarters and museum.
Historical and cultural visits included Dachau Concentration Camp, Marienplatz, the Reichstag building and the Neuschwanstein Castle.
Here's what students and faculty had to say about their experience:
To learn more about their trip to Germany, check out the student-created website for blogs and photos. During the fall semester, an exhibition of their work will be displayed on campus. Watch for updates on the School of Communication news page.
Photos by Connor Mulvaney, junior photojournalism major

More About: journalism, photojournalism, photography, Honors Program, multimedia, International media trip, faculty