more news
School of Communication Alumnae Land Jobs at The Beaver County Times
Monday, January 19, 2015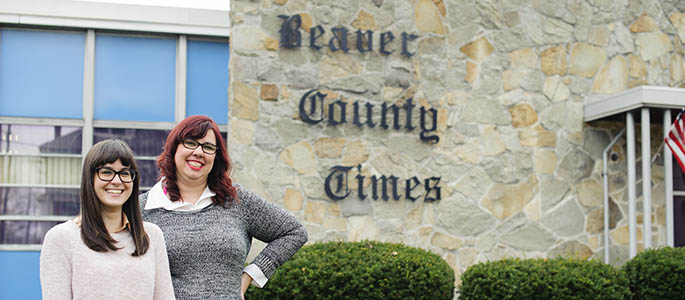 Alumnae Marina Weis and Daveen Rae Kurutz at the Beaver County Times.
Point Park University alumnae Marina Weis and Daveen Rae Kurutz landed full-time positions at the Beaver County Times. Weis is a videographer and Kurutz is a database/enterprise reporter. Below, the alumni discuss how their educational experiences at Point Park prepared them for success.
Why did you choose to attend Point Park?
I loved that Point Park was a smaller school because I didn't want to be just a number in my classes. I wanted to connect with my professors who had real-world experience in their field. I was attracted to its well-known journalism program and growth of digital media classes. I eventually added a double major because of the multimedia resources available to students - these included Mac labs and professional video cameras for student rental. Most importantly, I chose Point Park for its Downtown Pittsburgh location and the opportunity to network with media professionals in the area. - Marina Weis, B.A. in journalism and multimedia, 2014
What led you to pursue a graduate degree?
One of my ultimate career goals was to teach the next generation of journalists. After graduating from the University of Pittsburgh, I knew I wanted to pursue my graduate degree. Point Park's hands-on programming - namely the Point Park News Service and the former Innocence Institute - appealed greatly to me. My mom attended Point Park as an undergraduate, so it was great to be able to attend the same school she had so much respect for. - Daveen Rae Kurutz, M.A. in journalism and mass communication, 2009
What was it like going to college in Downtown Pittsburgh?
Everything was a walk or a short bus ride away. There was always something to do. As a reporter and video journalist, there was always a story around the corner. Huge holiday parades marched right past my dorm building. The bustling Market Square was just a few blocks away, and during the winter, I could walk to PPG's ice rink, and in warmer weather, I could take a stroll to the Point. I was truly able to get the most out of my experience in Downtown Pittsburgh. The best part was the 10-minute walk from my dorm to the Pittsburgh Post-Gazette during my summer internship. - MW
How has your graduate degree helped you in your career?
I've been able to teach at the collegiate level, working with younger students who are interested in pursuing journalism. While working towards my M.A., I was able to explore other sides of mass communication, including desktop publishing. In my new role as a database reporter, those design principles have been immeasurably helpful. - DRK
How did the education and training you received at Point Park prepare you for your career?
My education at Point Park is best described as hands on. Nearly all of my assignments involved reporting on real, timely subjects that would be published to either a student or professional platform. I learned how to meet deadlines and created a diverse portfolio, which includes radio, video, print and design work. Later in my college career, I also had the opportunity to edit other students' work as an editor of the school's student-run newspaper, The Globe, and as an apprentice for the Point Park News Service. These experiences helped me land internships at the Post-Gazette and at WESA 90.5. Last year I attended a job fair on campus and had the opportunity to meet the executive editor from the Beaver County Times. He was so impressed with my resume that we kept in touch, and he eventually offered me a full-time job. - MW
What are your current job responsibilities?
My primary job is to find datasets that are relevant and important to our readers and make the information digestible. I spend a lot of my days mining and manipulating data from all walks of life. Since I came to the Times, I've reported on crime statistics, school performance scores, teacher salaries, greenhouse gas emissions, gas prices, census data and the wage gap between men and women in the region. Some of those turn into multi-part projects, such as an investigation into a website purporting to be a home security system company capitalizing on old FBI crime report data or an intensive look at student performance on state standardized tests.
I'm also responsible for visualizing data for our website, using a platform called Tableau. We create interactive charts and graphs for our readers to navigate and help boil down numbers into more understandable formats. I work with our A1 page designer to create similar graphics for our print edition. One of my favorite online projects that we've done took place on election night, when we live-updated the results for several local and state races through various data visualizations. Finally, I work with other reporters to find ways to infuse data into their stories. - DRK
More About: Downtown Pittsburgh, Point Park News Service, journalism, The Globe, multimedia, internships, M.A. in journalism and mass communication