more news
Point Park's Student Media Reports on the Presidential Inauguration in Washington, D.C.
Thursday, January 26, 2017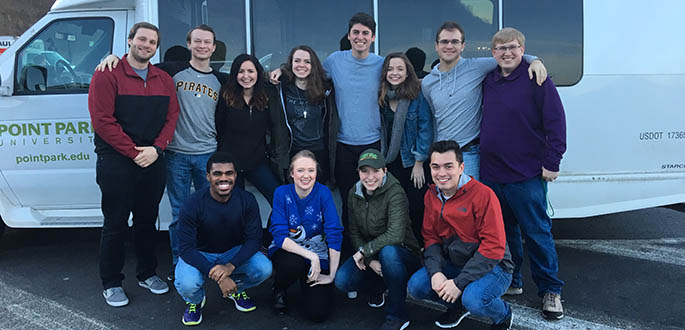 (Back L-R) Vincent Ferrainola, Josh Croup, Julianne Griffith, Chloe Jakiela, Robert Bertha, Emily Bennett, Sam Morrison and Alexander Popichak. (Front L-R) Blaine King, Casey Hoolahan, Gracey Evans and Alexander Grubbs.

Point Park University's School of Communication majors representing The Globe, U-View and WPPJ reported on the inauguration of President Donald J. Trump Jan. 20 in Washington, D.C.
Below, the aspiring journalists discuss their experiences covering the inaugural ceremonies in the nation's capital:
"We were rubbing elbows with reporters from around the world. We were right there with the professionals reporting for our audience in Pittsburgh and I felt like I belonged there as a journalist. The overall atmosphere and energy surrounding the day was incomparable and I will never forget this experience." - Josh Croup, a junior broadcast reporting major from Butler High School

"When working with student media, you have the chance to apply what you have learned when covering real events. While covering the inauguration, we were working in the same space as ABC, NBC, CBS, The New York Times, National Public Radio as well as International media. Realizing that we were doing the same work as the professionals gave me so much more confidence in my choice of a career." - Alexander Popichak, a junior broadcast production and media management major from Carlynton High School
"This was an awesome experience to cover the inauguration for The Globe! I took photos of protests taking place outside of the inauguration. This experience definitely made for stories to share with friends, family and future children one day." - Gracey Evans, a sophomore photojournalism major from Franklin Regional High School
"Overall, my experience in D.C. was an unforgettable and exponentially helpful journey into the world of journalism. My classes at Point Park have helped me hone my interviewing and recording skills which were put to the test at the inauguration. I want to thank Point Park for making this trip a reality for students." - Vincent Ferrainola, a senior broadcast production and media management major from Seneca Valley High School
"As an aspiring journalist, it was great to use all the skills I have learned to cover the inauguration. I was able to take pictures, shoot video and conduct interviews. It was such an amazing experience to cover this as a student!" - Blaine King, a senior broadcast reporting major from Upper Darby High School
"We truly had the chance to be a part of history. Every time I took a picture or recorded a video I could hear my professors in the back of my mind reminding me, "Is the subject bright enough? Are they in focus? Follow the rule of thirds. Ask for a name, etc." It was really great to be able to put everything together in practice." - Robert Bertha, a junior broadcast production and media management major from Deer Lakes High School
For a roundup of the students' work, check out "As it Happened: Point Park Media Covers the 58th Inauguration" published by The Globe and #PioneersinDC on Twitter.
Point Park Students in the News
"They're going to Washington, D.C., for the Trump inauguration," Washington Observer-Reporter, Jan. 19, 2017.
"In Washington, D.C., local residents witness inauguration of 45th president," Washington Observer-Reporter, Jan. 20, 2017.
"The Heron's Nest: Live coverage from Trump's Day in D.C.," Delaware County Daily Times, Jan. 20, 2017.
Photo Gallery
Photos by School of Communication students Shayna Mendez, Gracey Evans and Josh Croup
More About: broadcast reporting, School of Communication, Carlynton Junior-Senior High School, multimedia, Seneca Valley High School, WPPJ, Butler Area High School, student trips, broadcast production and media management, Deer Lakes High School, photography, journalism, U-View, photojournalism, Franklin Regional High School, The Globe