more news
Nike Executives Visit Point Park
Friday, November 1, 2013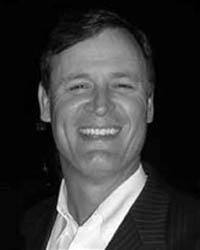 Ed Haberle
The Pittsburgh Center for Sports Media and Marketing welcomed leading Nike executives Ed Haberle, a Point Park alumnus, and Laura Kosmalski to campus on Oct. 23 to talk about The Story Behind the Branding, Marketing and PR Powerhouse at Nike.
"I was one of you," said Haberle, vice president of North America sporting goods to university students. "I'm very excited to be at Point Park to share the Nike story with you. I've been with Nike for 30 years - it's a great brand and a great place to work."
Kosmalski, a senior director of retail brand presentation, also spoke to students and shared video clips from Nike's communication platforms as examples of how the company's retail sales and marketing areas work to target consumers.
"At Nike, our mission is to bring inspiration and innovation to every athlete in the world," she said. "We have a relentless focus on our consumer and we listen to the athlete, but we have to stay ahead of you as the consumer. It's a very crowded marketplace, so we are always working to elevate our brand."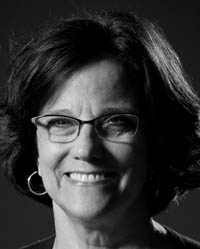 Laura Kosmalski
Haberle added, "In order to stay innovative, we work to stay ahead and be on the offense, not the defense. This is a maxim that Nike lives by."
Katelyn Howard, a junior public relations and advertising major, said the opportunity to meet leading executives working in the field is priceless.
"We learn so many valuable skills in class, but what I love about Point Park is the chance to make connections with people who are living the life that we want to live," she said. "As advertisers, we need to change with the times. I have a new respect for the idea of considering the changing society, and more importantly, the changing lifestyle of consumers."
Haberle also offered career advice to the students, reminding them to contribute to whatever they do.
"Whatever you do, whatever job or field you decide to get in, make sure you add value," he said. "You have to take some risks, learn from mistakes and make them into bigger opportunities. Just as Nike is a brand, you're a brand, too. You represent yourself and your community - remember that as you go out into the world."
Cody Williams, a sports, arts and entertainment management major and a member of the center's student advisory board, said the center is excited to continue to bring relevant and fun speakers to Point Park.
"These types of events give students a better view of the sports industry and show them that achieving a successful career is possible," he said. "I'll apply the hard work ethic and determination that Laura and Ed talked about to my life to improve the skills I possess."
Learn more
Part of Point Park's School of Communication, the center brings leading sports executives to campus to host workshops and seminars with students interested in sports media and marketing careers.
Follow the center on Facebook and Twitter.
More About: alumni, public relations and advertising, Center for Sports Media and Marketing