more news
M.A. Alumna Receives Award at Walter Cronkite Conference on Media Ethics and Integrity
Monday, November 21, 2016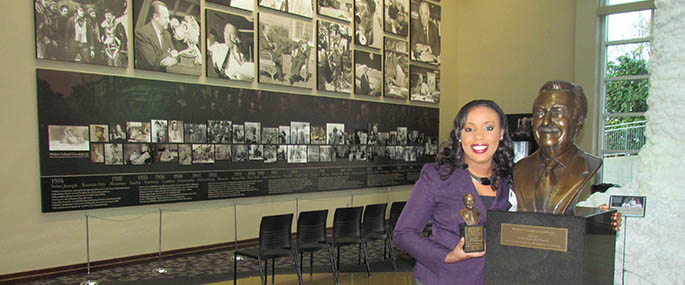 Deandra Williamson, a 2014 M.A. in Media Communication alumna from Nassau, Bahamas, won first place in the research competition at the annual Walter Cronkite Conference on Media Ethics and Integrity, held at Missouri State University in early November. Williamson's presentation, titled "Ethical Challenges in Bahamian Journalism: The Case for a Code of Ethics," was based on her master's thesis.
"The paper was selected in a broad, competitive, scholarly review process," said Timothy Hudson, Ph.D., who teaches Media Ethics and served as Williamson's thesis committee chair. "This kind of national exposure is key to establishing and maintaining a university's academic reputation."
Williamson said her graduate experience at Point Park provided her the skills needed to conduct scholarly research.
"The classes I took at Point Park prepared me for my research and presentation," she said. "The Media Ethics and Responsibilities course played a pivotal role because it gave me the opportunity to examine the ethical challenges journalists face."
Williamson added, "Point Park University is the place to be if you're looking for a hands-on journalism program. The education I received has helped me to advance in my career."
Learn More
Explore the graduate and doctoral program offerings at Point Park university, visit campus or contact us to learn more.
More About: student presentations, School of Communication, M.A. in media communication, M.A. in Media Communication/Journalism, success story, international, alumni