more news
Covering Conflict Topic of High School Media Day Workshop
Thursday, December 11, 2014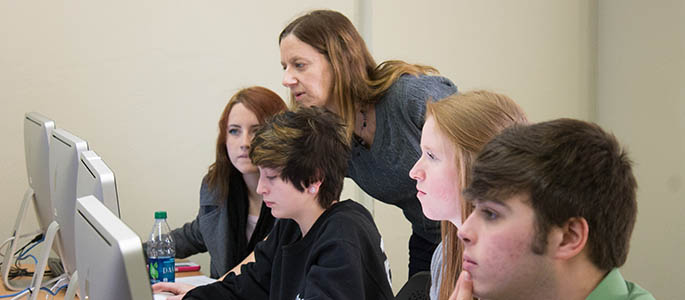 Assistant Professor Robin Cecala teaches students how to put together the best photo slideshow using free web tools.
Point Park welcomed more than 200 high school students and their teachers to campus for the annual fall media day. Hosted by the School of Communication on Nov. 14, this year's program featured interactive workshops that explored how to cover controversial media stories.
Photo Gallery
---
Learn More
School of Communication
High School Programs
Request Information
Apply Online
Session topics
Journalism: Getting the story. How to get sources to talk to you. - Andrew Conte, adjunct instructor and director of the Point Park News Service.
Media Law: First Amendment freedoms. What rights do students have to write about controversial issues? - Bill Moushey, professor.
Multimedia/Web: Search engine strategies. Finding and researching crisis. - Tatyana Dumova, Ph.D., associate professor.
PR/Advertising: Managing information during conflicts. A session on crisis communications. - Bob O'Gara, professor.
Photography: Creating images of conflict, aesthetics, ethical issues about cropping and what we should show to the public. - Christopher Rolinson, associate professor.
Media day concluded with a luncheon in the Lawrence Hall Ballroom while students heard from two keynote speakers, Michael Fuoco, a reporter for the Pittsburgh Post-Gazette, and Carmen Gentile, who has written for the New York Times, TIME and Newsweek.
"Reporters are the eyes and ears for our readers. You want to write in a way that puts the person on the scene; we need to convey all of the senses - write down what the temperature is, what it smelled like, how many people were there, what they were wearing, etc.," said Fuoco.
Gentile also offered career advice to students stressing the importance of strong writing skills.
"If you're interested in pursuing a career in journalism, learn to write first and everything else will be much easier," said Gentile. "If you're a good writer, you'll learn how to be a much better journalist across all disciplines."
Students interested in visiting Point Park's School of Communication are invited to attend a High School Media Day during the fall and spring semester. Registration information will be posted on the High School Programs page.
What students and teachers had to say
"I learned how to perfect my writing and work with a word count. It taught me how to make my ideas concise and to the point. I've already been accepted into Point Park's journalism program and I've heard so many good things about it. " - Andrew Domencic, a senior at Avonworth High School. Aspiring reporter for the Pittsburgh Post-Gazette.
"I really enjoyed taking the media ethics workshop with Professor Tim Hudson. I had a lot of fun being on campus and got a taste of what it would be like to go to school at Point Park." - Julia Maruca, a sophomore at North Allegheny High School. Aspiring print journalist.
"I learned how to get sources to talk and that was really cool. It was a fun day being on a college campus in the city." - Mykenzie Fitch, a junior at Kiski Area High School. Aspiring musician.
"Our students that are interested in a career in media have been coming to Point Park for several years. Our students find the hands-on sessions to be very rewarding." - Sally Meyers, teacher at Fox Chapel Area High School.
Photos by Victoria A. Mikula, sophomore photojournalism major
More About: high school media day, broadcast reporting, journalism, photography, multimedia, North Allegheny Senior High School, Fox Chapel Area High School, Avonworth High School, high school programs, public relations and advertising, Kiski Area High School, broadcast production and media management