more news
Bright House Sports Network and PGA Tour Entertainment Executives Visit Point Park
Tuesday, October 11, 2016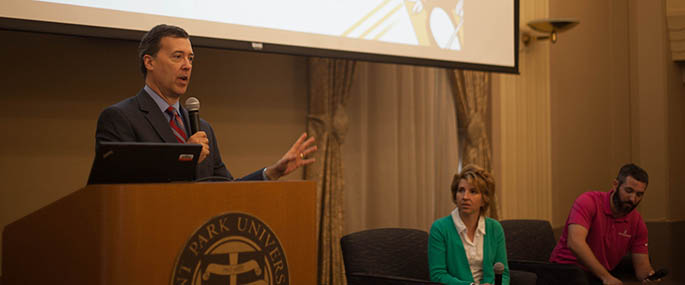 (L-R) Chris Jadick, Stephanie Walston and David Flora
Bright House Sports Network and PGA Tour Entertainment executives discussed career opportunities in the changing world of sports production and management at a Pittsburgh Center for Sports Media and Marketing event Oct. 4 at Point Park University.
Event Photos
---
Learn More
Panelists included:
"We're here to help advise you on your career path," Jadick said. "We'll share our background with you, but your career is what you make of it."
During a luncheon and presentation with School of Communication and School of Business students, the panelists highlighted what to include on a resume/in a demo reel, interviewing best practices, the importance of internships as well as the busy schedule of working in sports.
"I found the luncheon and presentation very helpful because I'm graduating this December," said Chloe Bendis, a senior broadcast reporting major from St. Joseph's High School in Natrona Heights. "They talked about resumes and demo reels, which is great because those are things that I can always improve."

John Mrozinski, a senior sports, arts and entertainment management major from Central Catholic High School in Oakland, valued the panelists honesty about what it's like to work in the sports industry.

"They talked about how you will work long hours, including weekends and holidays, and not to expect the pay to be the best," he said.

Casey McGaw, a junior SAEM major from Dauphin County Technical School in Harrisburg, said the key message she took away from the presentation was the importance of internships.

"For me, the most applicable advice was that I need to keep doing internships in order to gain experience in as many different areas of the industry as possible while I'm in college."
Career Tips from the Panelists
"This is a very competitive field. If you want to work in this industry, you have to be aggressive and do something that differentiates you from the competition. Start networking now, don't wait until after you graduate." - Chris Jadick
"If you don't get a job, get the interviewers' feedback about how you can improve in an interview. Don't take it personal because there is something better out there for you. Have a great attitude and be positive in all you do." - Stephanie Walston
"Get your hands on the equipment beginning day one at Point Park and learn how to do it all. In an interview, be yourself, ask questions and be humble." - David Flora
Photos by Olivia Ruk, a senior mass communication major
More About: success story, Center for Sports Media and Marketing, Rowland School of Business, Central Catholic High School, broadcast production and media management, School of Communication, alumni, sports, arts and entertainment management, broadcast reporting