more news
Alumnus Matt Adams is an Associate Photo Editor for National Geographic
Monday, June 1, 2020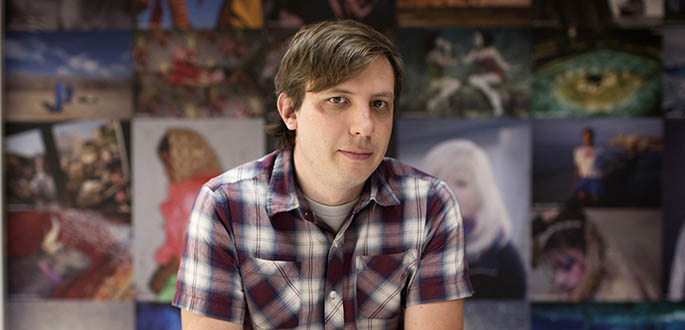 "If I didn't go to Point Park, then I can honestly say that I wouldn't be in the job I am in now. It was the starting point to an incredible journey."
Matt Adams
Meet Matt Adams
Job title: Associate Photo Editor
Employer: National Geographic
Degrees earned: B.A. in Photojournalism, Point Park University, 2007; M.A. in Visual Communication, Ohio University, 2012
Hometown: Donora, Pa.
High school: Ringgold High School
Now living in: Washington, D.C.
Twitter: @themattadams
Tell us about your career path and what led you to your current position.
I can honestly say it has been quite a journey to get to this point in my career. I got my start photographing bands in small basements and VFW Halls. I was obsessed with documenting the local music scene and culture, and I dreamed of being the next Danny Clinch.
In 2005, I had the chance to intern at Pittsburgh Magazine under Richard Kelly - former director of photography - who gave me a crash course in what being a director and visual leader was like in the industry. I was definitely fascinated by how layouts and images were curated to create a story, but at the time wanted to still be in the field as a photographer.
After graduating from Point Park in 2007, I found myself photographing local and national musicians like Tom Petty, The Pixies, Blink 182, mc chris and Punchline. I started to see my work appear in Alternative Press, Toronto Life Magazine, the Pittsburgh Post-Gazette and Guitar World.
In 2010, I began to explore other opportunities and learn new skills in video storytelling during my graduate studies at Ohio University. It was there that I found myself wanting to be more of an editor/producer while working on a project called "The Soul of Athens."
My next move took me to Pittsburgh for a part-time teaching position at Point Park University, and it was a pretty amazing experience. I owe a lot to my former students who reignited my fire and passion for visual storytelling. At the time, I was pretty burnt out from working in the industry, but the students I worked with changed all of that and I'm very thankful to them.
I'd say that I landed this job at National Geographic because of my journey through this industry. I know this was a long-winded answer, but usually these opportunities happen by applying and being accepted for a position. But for me, every experience I went through on my journey prepared me for this position. I could not have done it without all the help and encouragement I received from my colleagues and friends.
How has your Point Park degree helped you advance in your career?
I have to give a shout out to Chris Rolinson, my former photojournalism professor, who kickstarted my journey by telling me to photograph things that interested me. I really struggled with concepts and was photographing some uninteresting things that I didn't care about. Chris pulled me aside and asked what I was interested in, and when I said music, he told me to take a camera to a local show, document the whole thing and bring him images to review. I took more than 100 images and he picked one that he thought was decent and said, "This is your starting point. Take more images like this." Something just clicked after that and I became very determined to make this career work. If I didn't go to Point Park, then I can honestly say that I wouldn't be in the job I am now. It was the starting point to an incredible journey.
What's a typical day like at National Geographic?
I begin the day looking at about 6,000 images! In a week, that's about 30,000 images (please send eye drops, I look at the computer screen for a long time)! My job deals with working in our Your Shot photo community, a place where anyone can sign up and create a profile to display their photographic work, engage with editors and continue to build this photo community. It's a community unlike anything else out there because photo editors at National Geographic, as well as our own photographers, look at these images and give some feedback on how they can improve upon them. We get anywhere from 5,000-7,000 submissions a day.
I help with the pre-edits where we are trying to find what we call the daily dozen, which are the 12 best images from the edit that get displayed on the Your Shot site. On top of that, we're building galleries or I'm writing a blog post on a feature member. I've also built some galleries for our travel site and work on our Your Shot photo workshops that we put on in different cities and countries.
What excites you the most about your job?
Everyday I'm looking at images that come in from all around the world, so it's pretty exciting to see someone documenting the Holi Festival in India and then looking at images of penguins in the Arctic, followed by someone who documents their family. Seeing a variety of interesting work inspires me and ignites my creativity. I'm so honored to work with a team of creative and supportive people at National Geographic.
More About: School of Communication, photography, Ringgold High School, photojournalism, alumni, success story