more news
2013 Journalism and Global Cultural Studies Alumna Lands Job at Observer-Reporter
Monday, January 13, 2014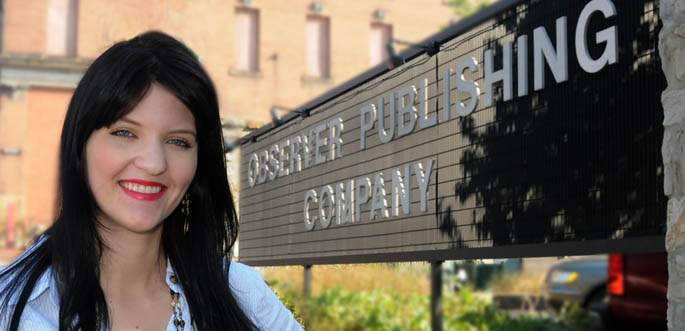 Meet Emily Petsko
Job Title: Staff writer at the Washington Observer-Reporter
Degree Earned at Point Park: B.A. in journalism and global cultural studies, 2013
Hometown: Fredericktown, Pa.
Now Living in: Canonsburg, Pa.
High School: Bethlehem-Center High School
College Activities: Editor-in-chief of The Globe, member of Society of Professional Journalists, volunteer conversation partner with ELS students
Hobbies/interests: Traveling, blogging, cooking and reading
What led you to pursue a double major in global cultural studies and journalism?
I've always wanted to be a writer of sorts, and I also sought a career where I could inspire positive change, so journalism seemed like the best of both worlds. I stumbled into global cultural studies when I took a modern language elective, taught by Professor Channa Newman, Ph.D., and immediately loved it. Every class in the program was so thought provoking, and I knew it would help me become a more globally aware reporter.
How has your double major prepared you for your job?
I received invaluable experience while writing for The Globe and a reporting class, taught by Professor Bill Moushey. Those opportunities enabled me to build a strong portfolio, which in turn helped me land my first internship at the Washington Observer-Reporter (and by extension, my first job there). The global cultural studies program equipped me with critical thinking skills and the ability to delve deeper into issues that affect the communities I serve as a reporter.
Describe the faculty in both of your majors.
The two majors are quite different, but I had the opportunity to learn from some of the most passionate individuals I've ever known in both programs.
Many of the journalism professors have worked as award-winning reporters for years, so they are vastly knowledgeable and tough, but in a good way.
The global cultural studies professors are also highly accomplished in their respective fields, which vary from literature, to anthropology, to political science. They have unique teaching methods and never fail to inspire lively discussion in the classroom.
Please list any internships you held as a student.
What was one of your favorite experiences at Point Park?
I love the friends and memories I made while working at The Globe, but it's the little things that stick with me the most. Running into five people I know between the café and the skywalk. Chatting with a professor after class about books and travels. Even being crammed in a crowded Lawrence Hall elevator. I do not think another university could have provided such an intimate atmosphere.
What's a typical day like for you as a reporter?
On a typical day, I might cover a municipal government meeting, write a local interest piece or round up criminal complaints for the police beat. Fortunately, there are also lots of atypical days in the newsroom. One especially slow evening turned into an exciting one when I assisted in covering an arraignment of three suspects in one of the biggest homicide cases in Washington. I also regularly cover Marcellus Shale issues, which is probably one of the most controversial topics in Washington County right now.
Anything else you would like to add?
I'd like to encourage students to take a course that is outside your comfort zone. I had not written a poem since middle school prior to taking a poetry workshop class, but it was one of my favorite classes, and it inspired a new hobby. Too often students fall into the routine of picking classes that will ensure an easy A, but never forget that education is all about your own enrichment and self-discovery.
More About: alumni, journalism, The Globe, SPJ