more news
2012 Alumna Adelyn Biedenbach is a Digital Media Coordinator for the Florida Panthers
Thursday, April 10, 2014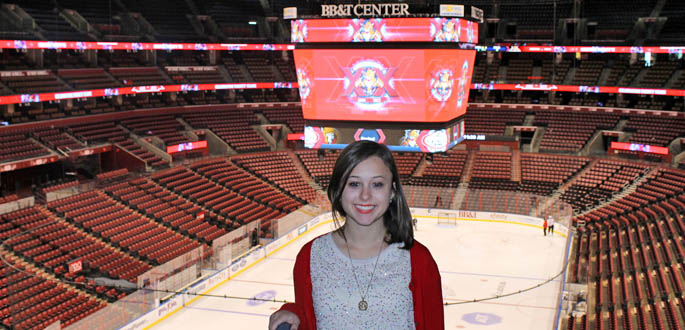 Meet Adelyn Biedenbach
Degrees earned: B.A. in Journalism with a minor in English, Point Park University, 2012; M.S. in New Media Management, Syracuse University, 2013
Job title: Coordinator, Digital Media + Communications, Florida Panthers hockey team
Hometown: Pittsburgh, Pa.
Now living in: Sunrise, Fla.
High School: Chartiers Valley High School
College activities: The Globe, Society for Professional Journalists, Green and Gold Society, Honors Program, Honors Student Organization
Hobbies/interests: Hockey, ballet, social media and yoga
Why did you choose to attend Point Park for your major?
Having grown up in the Pittsburgh area, I always knew about Point Park. When I was in high school, I had the opportunity to take dance classes and participated in Point Park's International Summer Dance Program. I fell in love with the downtown campus and small class sizes. I loved the School of Communication, and after meeting Professor Helen Fallon and the faculty, I felt like it was the right place for me.
How did you land your current job?
I began my job hunt after finishing grad school. Knowing that my ideal position was in hockey and social media, I reached out to alumni working in those areas just to start conversations with them and learn about their lives, as well as how they landed their jobs. I'm grateful for the advice and overview that they gave me and it also helped me get into the habit of talking about who I am and reaching out to people on the phone. I applied to jobs using a website called Teamwork Online and ended up interviewing with a couple of teams. After an extensive interview process, I decided that my best career choice was this one!
How did your Point Park experience prepare you for your career?
Point Park's faculty has real-world experience. Most of my professors were still working in the industry and had real-life experiences to share in the classroom.
What are some of your key job responsibilities?
My key job responsibilities include social media strategy, digital content creation and assistance with public relations and game day duties.
What advice do you have for students considering Point Park's School of Communication?
I would say that the friends I made, especially from late nights working and editing at The Globe, are some of the very best people that I know. The School of Communication is just the right size where you can explore your own career goals and get a well-rounded look at the media system and how it operates.
What are your career goals?
I love working in sports and digital communications and I hope to be able to stay current and agile in the changing media landscape no matter what social and digital might be like 10 years from now.
More About: SPJ, alumni, Honors Program, The Globe, success story, English, Honors Student Organization, journalism