more news
Working on Broadway: SAEM Grad Dishes Out Details
Monday, September 10, 2012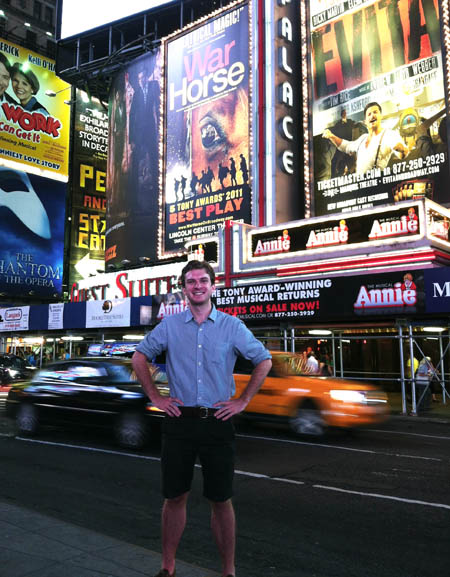 Meet Hugh Stumpp
Job title: Associate House Manager
Employer: Nederlander Producing Company of America, Inc.
Hometown: Wheeling, W.Va.
Now living in: New York, N.Y.
Degree earned: Bachelor of Science in Sports, Arts and Entertainment Management
Graduated: 2010
Hobbies/interests: Theatre, sports, television, movies, good restaurants, running, and exploring the city
LinkedIn: Hugh Stumpp
Update
Hugh is now associate house manager for Jujamcyn Theaters in New York City.
Why did Point Park's SAEM program appeal to you?
Point Park's SAEM program appealed to me because of the variety of courses I was able to take. When I started my freshman year, I wasn't sure what I wanted to do with my life, but I knew I was interested in sports, theatre and music. By joining the SAEM program, I was able to learn about each area and see how the different industries have many similarities and how they interact with one another. All of the professors are great and have a huge amount of knowledge of the different industries. This really makes a difference.
How did you land the position of associate manager for the Nederlander Producing Company?
I first started with Nederlander as an intern in the operations department. I got along with everyone at the office and impressed some house managers so they decided to create my current position as a floating associate house manager.
What are your key job responsibilities?
The Nederlander Producing Company of America owns and operates nine Broadway theatres. Three of the theatres have managers with assistants and the other six just have managers. Part of my position is to float to the six non-assistant houses and help out. This is a great learning experience to be exposed to so many different theatres and work under different managers. Some of the shows in our theatres are Wicked, Lion King, Evita, Newsies, Porgy and Bess, Peter and the Star Catcher, and soon, Annie and A Christmas Story.
What's it like to work in New York City?
It's great! The saying "If you can make it here, you can make it anywhere!" is true. The amount of people and personalities you deal with on a daily basis really prepares you for just about anything. There is nothing like working on Broadway! Walking to work through Times Square and seeing the billboards and lights for the shows you're working on is really an amazing feeling.
How have your SAEM classes benefited you in your career so far?
The SAEM classes I took at Point Park have benefited me a lot in this industry. The venue and facilities management class I took really applies to the job I have now. There is a lot more that goes into a Broadway theatre than one might think. Since the professors work or have worked in the industries, learning from their experiences really made a difference. I believe that graduating from Point Park with an SAEM degree really sticks out on a resume because of the diverse background it offers to students.
What are your future career goals?
As an associate house manager, I am an apprentice to join our union, the Association of Theatrical Press Agents and Managers. After 52 weeks of work, I will be eligible to take a test and if passed, it will allow me to be a union member. After that, I would love to one day manage my own Broadway theatre.

Photo by Kyle McGinley
More About: Rowland School of Business, alumni, sports, arts and entertainment management, success story