more news
SAEM Alumnus Working in Social Media on West Coast
Thursday, June 21, 2012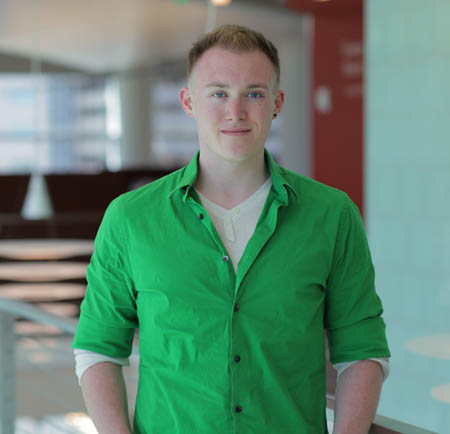 Photo by Bradley Tangonan
Meet Joseph Adams
Job title: Social media marketing associate
Employer: iShares by Blackrock
Hometown: Niles, Ohio
Now living in: San Francisco, Calif.
Degree earned: Bachelor of Science in sports, arts and entertainment management
Graduated: May 2010
College awards and activities: Outstanding graduating senior, community facilitator, United Student Government, Campus Activities Board, Gay and Straight People Alliance, Confluence Psychology Alliance, chorus, and Green and Gold Society student ambassador
Hobbies/interests: Working out, cooking, volunteering for LGBT community events, and educating small businesses on social media
LinkedIn: Joseph Adams

Update
Joseph is now a Digital Marketing Manager for LendingClub.
Why did you choose Point Park and and the SAEM program?

After learning about Point Park at a college festival, I scheduled a campus visit and right away fell in love with the University. I grew up in a rural part of Ohio, but always knew I wanted to live in the city. Point Park was centrally located Downtown and had the coolest vibe among the universities in Pittsburgh. As for choosing the SAEM program, I originally enrolled in public relations and advertising, but soon realized the SAEM major was a better fit for me. I liked that I could learn about a variety of areas as well as have a taste of business.
How did you land your current position as a social media marketing associate?

Throughout my time as a student at Point Park, I completed seven internships, mostly in event management. In particular, my internship at Simayof: The Payne Mansion helped me make connections in San Francisco that led me to where I am today. While working as a freelance social media consultant, I was sought out by an external talent recruiter for iShares and interviewed for a contract position. Within a month I was put into a community manager role and was promoted to my current position this year. It is awesome to work for a financial company that is so encouraging with social media.

What are the major differences between working on the West Coast versus the East Coast?
Overall, there is a faster rate of adoption but slower pace of life. The lifestyle on the West Coast is more relaxed, yet new technologies happen really fast here. Twitter is two blocks from my office. Every day is a new experience.

What role has Point Park played in helping you reach your career goals?
Point Park was incredibly instrumental in a number of ways. Professor Paige Beal's classes in digital marketing and media have been very useful to me in my career. These classes were always ahead of the curve especially with trends in social media. Overall, the SAEM major opened up a road map for me of what I wanted to do and helped me land a dream job 2,000 miles away from home at the age of 24.
What are your future career goals?
I would like to stay working in the field of social media and ultimately be known as an expert on brand personification within a digital presence.
Is there anything else you'd like to add?
Point Park will always hold a special spot for me. Thanks to everyone I met there, I can truly say I have friends living all over the world.

More About: alumni, Campus Activities Board, sports, arts and entertainment management, Rowland School of Business, success story