more news
Meet M.B.A./M.A. Student Stephanie Mueller, Winner of Ethical Leadership Essay Competition
Thursday, December 17, 2015


Meet Stephanie Mueller
Degree pursuing: M.B.A./M.A. in Media Communication with a concentration in Public Relations and Advertising Management
Graduating: December 2015
Job title: Regional Show and Event Manager
Employer: Gutter Helmet by Harry Helmet
Degree earned: B.A. in Communication Studies, Kent State University, 2009
Hometown: Robinson Township, Pa.
High school: Montour High School
Now living in: Verona, Pa.
Hobbies/interests: Cooking, baking, crafting and community service
LinkedIn: Stephanie Mueller
M.B.A./M.A. student Stephanie Mueller won the Ethical Leadership Essay Writers Forum Nov. 13 for her research presentation on Rosalind Brewer, president and CEO of Sam's Club and the first woman and first African-American to lead a Walmart division.
Why did you select Rosalind Brewer as the ethical leader you most respect and admire?
As a frequent shopper and participant in many bake sales and other fundraisers at Sam's Club, I admire the work ethic and community giving aspects of the organization. When I received Dr. Haley's research essay assignment, I decided to explore the structure of Sam's Club and came upon Rosalind. She began her career as a chemist and is now the first woman to run a Walmart-branded company. Rosalind's leadership philosophy offers insight on how to effectively lead organizations, especially as a woman in male-dominated work environments. I related to her philosophy as an aspiring leader and look forward to using it myself.
Describe your experience presenting at the ethical leadership event.
Nerve wracking! I wasn't sure what to expect. Overall, it was interesting to hear the perspectives of others on how they interpreted the assignment. I don't believe there was a right or wrong way to interpret it. It was more about which ethical leadership style fit best into our own lives.
Why did you choose Point Park for grad school?
My undergraduate degree was in communication studies. It was so broad that it didn't help me fully understand the important concepts of marketing and business. I went back and forth on whether I should pursue an advanced degree in public relations or get an M.B.A. degree. Luckily, Point Park University offered both degrees and was located only about four blocks away from my office at the time. I have learned a lot in both programs. I know I would not be in the position I am in today without the knowledge both programs gave me.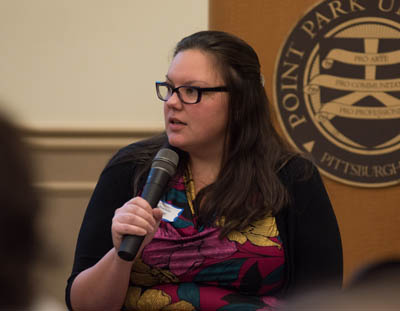 Who influenced you during your time at Point Park?
My peers were a huge influence. All of us were different, yet we came together for one purpose - to earn graduate degrees. I created friendships that both challenged and supported me throughout school and my career.
How do you think your M.B.A. degree will help you reach your career goals?
The knowledge I gained through the M.B.A. program helped me understand business strategies and the importance of them. This will allow me to apply the new information I've gained to the position I currently have and continue to push me into a marketing director spot.
As you are about to graduate, do you have any final thoughts?
Although at times it can be challenging, I highly recommend that graduate students work while in school. The education you receive is valuable on its own, but being able to apply it to your career on a daily basis makes it practical. It really helps you understand the importance of the concepts you are learning. It also might make you realize it's time to switch positions to work to your fullest potential.


More About: graduate programs