more news
Meet Darlene Brusco, Accounting Student and Support Specialist for Alcoa
Monday, April 21, 2014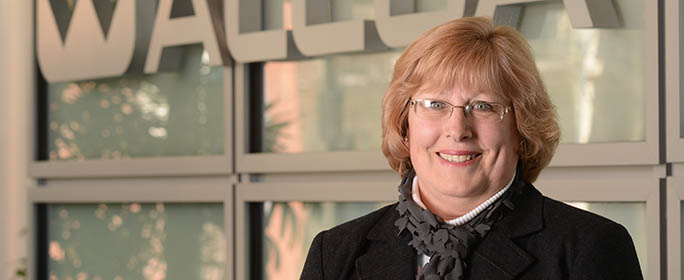 Meet Darlene Brusco
Job title: Support Specialist
Employer: Alcoa
Degree earned: B.S. in Computer Science from Point Park, 1986
Currently pursuing: Post-Baccalaureate in Accounting
Expected graduation: May 2017
College activities at Point Park: I played basketball at Point Park and was inducted into the Hall of Fame in 2001.
Hometown: Forest Hills, Pa.
Now living in: Penn Township, Pa.
Hobbies/interests: Cooking, crafts, camping, fishing, home repairs and volunteering
Why did you decide to pursue an accounting degree?
I had minored in accounting and decided to come back to Point Park to obtain a B.A. in accounting.
As a non-traditional student, how do you effectively balance working full time and going to school?
Up to this point, I have only taken one class per semester. Between the demands of my job and my children, it would be too stressful to take more than one class. I really enjoy taking classes; it provides a different kind of challenge.
Did Point Park's location in Downtown Pittsburgh play a role in your decision to attend the University? If so, why?
Yes. I work on the North Shore, so being able to drive over after work is very convenient.
How have your accounting classes helped you in your current position?
I do not directly perform accounting functions in my day-to-day work, but have found that this knowledge has helped me be able to solve issues that arise in my job. Not only have the accounting classes helped me in my work, but my work has helped me in my accounting classes.
How is Point Park helping you to fulfill your career goals?
Without the education I received and continue to receive at Point Park, I would not be in the position I am in now, nor have the opportunities that are available for my future.
What is one of your favorite Point Park memories from your undergraduate years?
Going to basketball practice. Since Point Park did not have a gymnasium, we practiced at Chatham College. I was the designated team driver and we would all pile in a mechanically challenged school van and head off to Oakland. We would have a great time!
Is there anything else you'd like to add?
I am very proud to see how Point Park has grown. When I attended in the 80s, there were only two buildings. Now the campus has truly become a campus.
More About: Downtown Pittsburgh, alumni, accounting