more news
Meet Alumna Charlene Bidula, Communications Specialist
Friday, November 18, 2011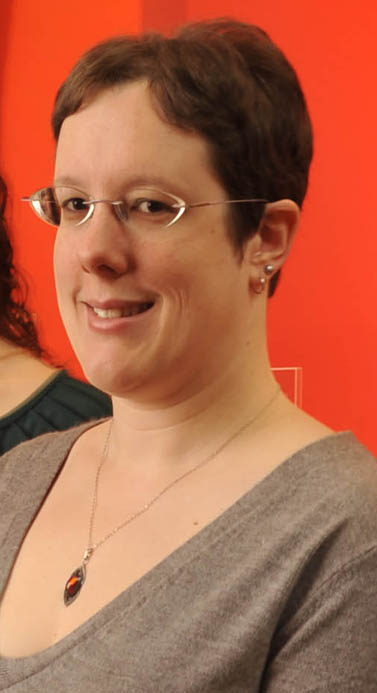 Meet Charlene Bidula
Job title and employer: Communications Specialist, Westmoreland Museum of American Art
Degrees earned: B.A. in broadcasting and M.B.A. with concentration in sport, arts and entertainment management, Point Park University
Graduation years: 2003 and 2009
Hometown: Penn Hills, Pa.
Now living in: Munhall, Pa.
Please give us an overview of your internship and career background.
I was a marketing intern at the Rivers of Steel National Heritage Area, a communications intern at the Carnegie Museum of Art and a marketing intern at the Pittsburgh Cultural Trust. In addition to my internships, I was also a marketing volunteer for the 2009 Pittsburgh Triathlon, a communications volunteer for the Pitt Ice Hockey Team, a Tap Into Art 2010 PR and Marketing Committee member for Gateway to the Arts, and the artistic director of the Steel Valley Arts Council board, which I still currently hold.
Before I went back to Point Park to pursue my MBA, I worked in retail for almost 10 years as a manager and sales associate and also spent two years working for KQV radio as a production assistant.
Why did you choose Point Park for your B.A. and MBA degrees?
While I was in high school, I really wanted to attend a great broadcasting/journalism college. During a trip to Harrisburg for a meeting of high school newspaper staff, representatives from Point Park were there to talk about what they had to offer for anyone who wanted to get into the journalism field. After talking with them, I decided that I wanted to pursue my degree there. The journalism classes offered were great, and the fact that I could commute from home really helped in my decision.
When I decided I wanted to go back to school for a graduate degree, immediately I looked at Point Park because I loved my experiences there as an undergrad and I read about all the great things that happened there since I graduated in 2003. I was also impressed with the accelerated one-year option for attending classes as well as the night and weekend class options. Knowing I could work and go to school at the same time really helped me make the decision.
Why did you select the SAEM concentration?
I heard a lot of good things about the sports, arts and entertainment management program. When I decided I wanted to change my career path, I looked into the program further. I knew from my experiences working in retail and in radio that I was great at marketing and communications and thought that I could use these skills in a career in one of the fields I love - sports, arts or entertainment.
What was one of your favorite experiences at Point Park?
One of my favorite experiences was meeting and getting to know Steve Tanzilli. He has a wealth of knowledge on the sports and entertainment industry, many great connections in the field, a great sense of humor and will do whatever he can to help his students. Steve is a great asset to Point Park University and the SAEM program.
What do you love most about your job?
Promoting a small museum that does big things. I love social media, writing, technology and photography and all of those are part of my job. It's so gratifying and exciting seeing my work reaching an audience farther away than I expected and receiving great feedback from visitors who are excited about the quality of the collection, exhibitions and events that the Westmoreland Museum of American Art offers to the community.
How do you incorporate the skills you learned in the MBA classroom into the work you do today?
In my MBA classes, we developed strategies for marketing brands, events and products. We also learned about business models, structures and financing for sports, arts and entertainment organizations. I incorporate the skills I've learned in these classes at the museum in planning promotion for exhibitions and events and when I work on strategies for social media, newsletters and other communications. The classes also helped me to understand the inner workings of the museum and how important good communication is for fundraising and campaigns.
What advice do you have for students pursuing a career in the arts management field?
Be sure to take advantage of as many internships and volunteer opportunities as you can. A degree is important, but having a lot of experience is equally important. If you're not offered a job shortly after you receive your degree, don't be discouraged. Continue to volunteer in your field in any way you can. There are a lot of arts organizations that are always looking for volunteers. Volunteer experience will always add value to your resume.
Is there anything else you'd like to add?
Some people are surprised when I tell them I play ice hockey. I'm currently a goalie on the Pittsburgh Puffins women's hockey team. Two fellow women hockey players and I founded a website a few months ago called Pittsburgh Women's Hockey Resource.