more news
M.B.A. Alum's Radio Show Being Broadcasted Globally
Friday, September 2, 2011
On September 2, 2011, Point Park M.B.A. alumnus Ron Meyer's Blessed2Play radio show debuted on the EWTN Global Catholic Radio Network. The network has the potential to reach 100 million people through its Sirius/XM satellite radio channel 130 and 190 domestic AM/FM affiliates. Blessed2Play airs on Fridays at 2:30 p.m. Eastern Standard Time.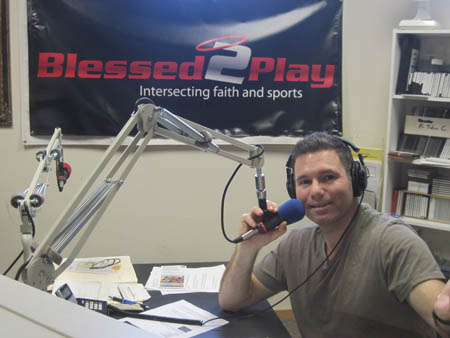 Meet Ron Meyer
Job Titles: Mid-Atlantic marketing manager and creator, producer and host of Blessed2Play
Employer: EWTN
Degrees: Bachelor of Arts in communications (with emphasis in journalism) from Franciscan University; M.B.A. from Point Park University
Graduation Years: B.A. in 1993; M.B.A. in 2002
Hometown: Manalapan, N.J.
Now living in: Bloomingdale, Ohio
What do you enjoy most about your jobs?
Working for EWTN, I participate in our mission to engage folks from around the world to help deepen their faith lives as Catholics. As a marketing manager, I truly believe in the product that I market and enjoy combining my passion and creativity. As the host of Blessed2Play, I enjoy getting into the life of my guests and uncovering what truly is at the heart of these champions of faith and sports. So far I've had the opportunity to interview a variety of individuals in the sports world like Bobby Allison (Nascar Hall of Fame inductee), Mike Sweeney (Major League Baseball all-star), Gerry Faust (former Notre Dame head football coach), Sal Bando (Oakland Athletics World Series champion), Rebecca Dussault (Nordic Olympic skier), Chris Godfrey (New York Giants Super Bowl champion) and Olympian Kirsten Holum, who later chose to leave speed skating to become a Catholic nun.
What inspired you to create the Blessed2Play radio show?
I've played competitive sports my whole life and discovered there were a large segment of Catholic athletes out there who had a willingness to share their faith journeys as well as talk about their careers in sports. I came up with the name of the show after reflecting one evening on my own athletic pursuits and realized it's a blessing to perform athletically, hence Blessed2Play.
How has your M.B.A. degree helped you in your career?
My M.B.A. degree added to my journalism and communications background by helping me to think more on a business level. For example, I'm able to understand business and financial information when working with major cable systems. When faced with a business issue, I often remember the discussions I had with my M.B.A. classmates and think back to the different case studies we perused.
What made you choose Point Park?
It was a close commute and I liked that Point Park offered an accelerated M.B.A. program. The accelerated program allows for professionals who are busy during the week to pursue a degree on Saturdays.
What were your favorite parts of the MBA program?
I really enjoyed the theory classes, case studies and collaborating on group projects. We studied the different models of business, various management styles and evaluated companies who succeeded and failed. The classes really benefited me in learning how an organization works. Also, my classmates came from varied professions and had a wide range of experiences that helped me to broaden how I looked at the business world. Overall, my experience at Point Park was very gratifying.

What advice do you have for individuals looking to pursue an M.B.A. degree?
First ask yourself "How is an M.B.A. degree going to benefit me?" It has been said all knowledge is good knowledge. However, individuals have to be willing to commit to the program and be open to transforming themselves to established and successful business principles. An M.B.A. degree will put you more in touch with specific aspects of the business sector. It's an important degree, especially for those who want to lead others in right business practices.