more news
Faculty Feature: Meet Melinda Colaizzi, SAEM Instructor, Musician and Business Owner
Wednesday, September 20, 2017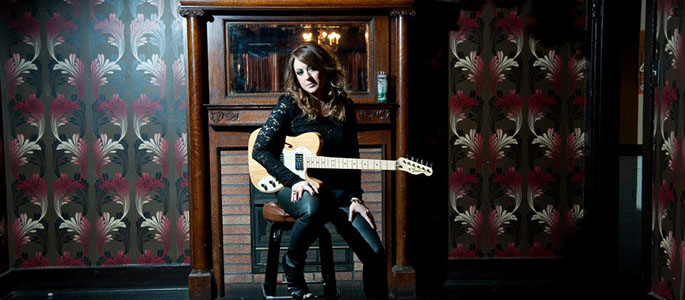 Melinda Colaizzi is a part-time instructor for the sports, arts and entertainment management department in the Rowland School of Business. Meet the SAEM full-time and part-time faculty at Point Park University.
Tell us about your work as a musician and business owner.
I've been performing since I was a teenager and music has always guided my life's path. After receiving a scholarship from Berklee College of Music in Boston, I left my hometown of Pittsburgh to attend Berklee, where I studied vocal performance and music business. While at Berklee, I was part of a band that received a major label development deal, but wanted to focus on my career as a solo artist and songwriter. I've since recorded an album of original blues/rock music, had a few songs placed in TV/film and am working on a new EP release this fall.
I've been working on the business side of the music industry for years, and have worked with companies like Universal Records, ShowClix and Live Nation. About two years ago I decided to branch out on my own and work as a consultant, setting up Pitch Consulting. In my consulting work, I assist individuals and organizations with sponsorship, events, business development and social media management.
I also started an event called Women Who Rock. I wanted a way to showcase all of the amazing female musicians here in Pittsburgh and give back to our community at the same time. Women Who Rock is an annual concert held every May during Women's Health Month, with a portion of the proceeds supporting women and infant health research, benefiting the Magee-Womens Research Institute, which is the largest research institute in the U.S. devoted exclusively to women's health research.
Why did you decide to teach at Point Park?
Point Park is unique in regards to the music business-focused program that they offer. Not many universities focus solely on the music business, as most also have a performance based requirement as well. I'm excited to be part of Point Park's growing and thriving sports, arts and entertainment management department and contribute to the success of the students and their future careers in the music industry.
How do you incorporate your experience working in the entertainment industry into the classes you teach?
My class is called Emerging Trends in the Music Industry, so we're talking about current topics and the quickly changing trends in the music industry. I'm discussing real-time topics both in the news and that I face on both the performance and business side. I'm using current tools and techniques related to digital music streaming, marketing and social media that can be applied to a new music release.
I'm also using real artist case studies, social media insights and discussing the overall trends in how people are both consuming and purchasing music in the digital age.
What career advice do you have for our SAEM students?
To network as much as possible and nurture your relationships. I also encourage students to wear many hats and acquire as many skills as possible, as it makes you more valuable in the workplace and as a performing artist.
Is there anything else you'd like to share?
Pittsburgh has an emerging music scene full of some incredible talent so I encourage everyone to get out and support local music!

Lead photo by Kelli Beavers and class photo by Sydney Patton, junior sports, arts and entertainment management major
More About: sports, arts and entertainment management, faculty, Rowland School of Business