more news
Alumna Working for Palace Sports & Entertainment, Mentoring SAEM Students
Monday, January 21, 2013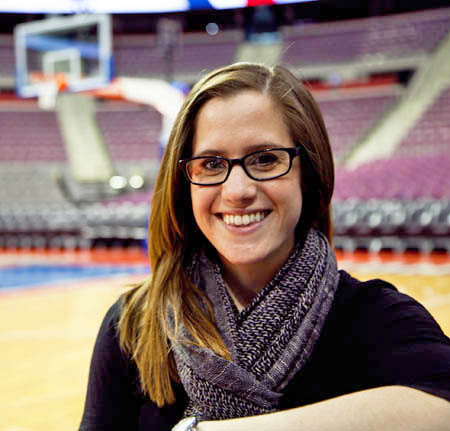 Meet Mallory Schirr
Job title: Executive Assistant, Events and Booking
Employer: Palace Sports & Entertainment
Degree earned: Bachelor of Science in Sports, Arts and Entertainment Management with a minor in Dance
Graduated: May 2009
Hobbies/interests: Dance, music, yoga and football
Hometown: Rochester, Mich.
High School: Lutheran High School Northwest
Now living in: Shelby Township, Mich.
LinkedIn: Mallory Schirr
Update
Mallory is now a marketing and media relations manager for the University Musical Society.
Why did you decide to transfer to Point Park?
I knew there were two possible career paths for me — a career in dance or a career in the live entertainment industry. While I was receiving the basic skills I needed to succeed in business at Central Michigan University, I didn't feel I was getting the specific guidance or real-life knowledge necessary to break into my industry of choice. Point Park received rave reviews from some friends of mine who had recently graduated from the Conservatory of Performing Arts so when I learned about the sport, arts and entertainment management program, the decision to transfer was a "no-brainer" for me.
How did you land your current position as an events and booking assistant?
Upon graduation, I landed a part-time job processing telephone and web ticket orders for shows and sporting events at Palace Sports & Entertainment's three venues — The Palace of Auburn Hills, DTE Energy Music Theatre and Meadow Brook Music Festival.

As my position evolved, I became more knowledgeable in ticketing and box office procedures. Around that same time I also took an internship in the marketing department, during which I became familiar with our PR, marketing and advertising processes. Eventually, I was offered my current full-time position in events and booking. In this position, I'm able to put my acquired skills and knowledge to work assisting in the booking and execution of shows in their entirety.
How have your SAEM classes helped you in your career field so far?
My experiences in the SAEM program are actually what solidified my choice to follow this particular career path. Having the opportunity to meet and discuss current trends with industry professionals is what led me to the decision that this was the path for me. I graduated with a comprehensive understanding of the way the live entertainment industry works, making my transition into professional life an easy one and giving me confidence that I've been making the right decisions along the way.
What advice do you have for students who are looking to work in the events management field?
The best advice I've received from an industry professional is that in order to know it all, you have to do it all. Don't be afraid to take that unpaid internship or part-time front of house position. Every step you take along the way will become a nugget of wisdom for the future and it's those experiences that will allow you to make better high-level operational decisions later on. If you can allow yourself to have patience with that process you will undoubtedly thank yourself later - and so will your future event staff!
Is there anything else you'd like to add?
The most valuable part of the SAEM program for me has been the continuing relationships I have with the SAEM faculty. They have a sincere interest in my journey and continue to check in with me from time-to-time to see where I'm at and offer advice. They also connect me with current SAEM students who are seeking advice. This has created a cycle and culture of life-long mentorship and networking within the program that I haven't seen from many other universities.
More About: transfer, sports, arts and entertainment management, alumni, success story, Rowland School of Business