more news
Accounting Grad David McCombie Working for KPMG as a Regulatory Risk Analyst
Tuesday, June 4, 2013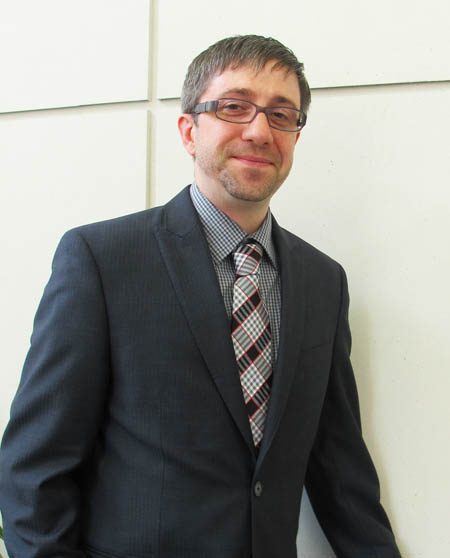 Meet David McCombie
Job title: Regulatory Risk Analyst
Employer: KPMG
Degree earned: Bachelor of Science in Accounting
Graduated: May 2013
Hometown and current residence: Pittsburgh, Pa.
Point Park honors and awards: Dean's list and graduated Magna Cum Laude
Hobbies/interests: Vintage motorcycles, snowboarding, yoga, reading and music
What inspired you to pursue a career in accounting?
My interest in accounting comes from managing a restaurant for 10 years. While working at the restaurant, I learned how to manage the accounts and to review the year-end numbers to see how the business was doing. This really interested me and I enjoyed working with that information. When I left the restaurant to pursue a new career path, I wanted to continue my education. I chose accounting as my major since it was part of my job for the past 10 years.

My mom also inspired me to go into accounting as she had studied accounting for a few years and always said that I was good with numbers and had an analytical mind.
What factors made you choose Point Park's accounting program?
There are many factors that helped me in making Point Park the University where I wanted to study accounting. The course offerings in the program interested me along with the option to take evening classes since I'm a working adult. Another factor was how conveniently located Point Park was to my employer. After working eight hours, I liked that I did not have to travel far to attend classes.
How did you land your position with KPMG?
When I started my accounting degree at Point Park, I decided that I wanted to eventually work for a Big Four accounting firm. With graduation in sight, I started looking for opportunities and I came across a position in the advisory regulatory risk practice at KPMG. After some research and learning about the practice, I knew that this was something that I would be interested pursuing.

With some general knowledge of the regulations, a strong banking background from my previous employer and an analytical skill set, I hoped to land the position. I sent in my resume and received an email from the recruiter to set up an initial interview. I then went through interviews with the recruiter, a staff member and a manager. I came into the interviews very prepared, researching the various regulations, reviewing my resume and going through various questions that could come up. I believe that my well-rounded education in accounting from Point Park, my experience in the banking industry and preparation for the interviews were all factors that contributed to me being hired by KPMG.
What advice do you have for working adults considering an accounting degree?
Obtaining an accounting degree is a considerably intense endeavor whether you are a young adult straight out of high school or an adult working and going to school. My advice to working adults considering an accounting degree is to set a pace for yourself that isn't overburdening. Developing a good work, life and school balance was the key to my success for graduating. Developing that balance can be very difficult though because there is a lot of time that needs to be put into studying. Overall, my advice is to take your time and develop a balance. It will be the greatest accomplishment in your life. I know this first-hand.
More About: success story, alumni, accounting, Rowland School of Business