more news
Accelerated Organizational Leadership Alumna the Founder of Youth Arts Nonprofit
Thursday, November 21, 2013


Meet Tyian Battle
Job title: Founder and Executive Director
Employer: ACH Clear Pathways
Degrees earned: Bachelor's degree in organizational leadership (formerly professional studies), Point Park University and Associate's degree in Business Administration, Duff's Business Institute
Graduation years: 2009 and 1999
Hometown and current residence: Pittsburgh, Pa.
High School: Brashear High School
Honors and Awards: Women of Distinction award from First Baptist Church, 2011; Proclamation from the City of Pittsburgh declaring July 21 as "ACH Clear Pathways Day," 2011 and Simply Excellence Award by Women for Excellence, 2010
Hobbies/interests: Traveling, socializing with friends and family and serving disadvantaged communities with arts programming
Tell us about ACH Clear Pathways and what inspired you to establish this nonprofit organization.
In 2009, my son Amon passed away at the age of seven. Amon loved the arts, especially karate, and I wanted to do something in his memory. God led me to develop my nonprofit, ACH Clear Pathways, which is a United Way contributing agency (#10532885). From 2010 to present, we have served more than 200 youth in the Hill District of Pittsburgh and surrounding areas.
Our four programs are in visual arts, dance, martial arts and digital photography. Also, ACH Clear Pathways helped to form Girl Scouts Troop #53611, the first troop to be active in the Hill District in 10 years.
How have your Point Park classes helped you in your role at ACH Clear Pathways?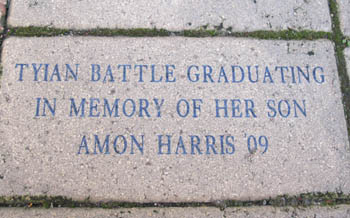 Battle's memorial brick is located in Point Park's Alumni Park.

When I got into the thick of my position as executive director, my marketing, nonprofit and English courses really began to play a role. My course in nonprofit organizations was especially beneficial when it came to the time in which I was reaching out to contractors and potential funders. Also, the presentations I gave in various classes really prepared me to speak in front of large groups of people.
What factors made you choose Point Park for your bachelor's degree?
At the time, I was a single parent working full-time at the YWCA of Greater Pittsburgh. After a full day of work, I was busy with parenting and household responsibilities in the evenings so the accelerated Saturday schedule of courses that Point Park offered was a true blessing.
What's one of your favorite experiences from Point Park?
I enjoyed interacting with my classmates on team projects and getting to know them and what their goals were in life. I also liked seeing the redevelopment and expansion of Point Park's campus.
Tell us about the professors at Point Park.
The professors at Point Park are patient and will understand what you are going through outside of the classroom. You will be able to build a strong relationship with them.
Is there anything else you'd like to add?
I really loved it at Point Park and hope to earn a master's degree someday. I'd like to say a special thanks to Professor Channa Newman, Ph.D. She was a wonderful mentor to me, especially during my last semester of college when my son passed away. Also, thank you to Michael Powell in the Office of Adult and Graduate Enrollment for always being so kind and helpful to me and to President Paul Hennigan, Ed.D., for supporting ACH Clear Pathways' jazz concert each year. I really appreciate it.
More About: Rowland School of Business, organizational leadership, success story, alumni