more news
2010 M.B.A. Grad Alphonse Tounkara Promoted to Project Control Leader
Friday, November 1, 2013
Meet Alphonse Tounkara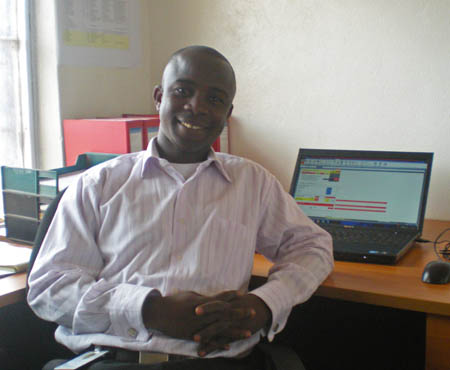 Job titles: Project Control Leader and Project Business Analyst
Employer: CBG (Compagnie des Bauxites de Guineé
Degrees earned: M.B.A. with a concentration in International Business, Point Park University and Bachelor of Science in Business and Management/Finance, University of Conarkry
Graduation years: 2010 and 2003
College Activities: International Students Club
Hometown: Kissidougou, Guinea, West Africa
Now living in: Kamsar City, Guinea, West Africa
Hobbies/interests: Sports, traveling and innovation
How did you land your position as project control leader?
Before my company brought me to Point Park University to take an English as a Second Language course, I was handling two jobs. I was cost accountant for $50 million dollar projects and a business controller for a railway and administration division. After I completed the ESL course, I was accepted into the M.B.A. program at Point Park. Right after my M.B.A. graduation in 2010, I returned to Guinea to take on the full role of business controller. This past March, I was promoted to project control leader for Companies des Bauxites de Guineé, a $1.5 billion company. The company's executives appreciate my commitment to working well and having an innovative spirit.
What factors made you choose Point Park's M.B.A. program?
The University's challenging M.B.A. program, the situation of the campus in the heart of Downtown Pittsburgh, the quality of the courses delivered and the commitment shown by the professors and staff drew me to Point Park. Learn more about Alphonse's experiences at Point Park.
In what ways has Point Park helped you reach your career goals?
The M.B.A. program helped me learn how to deal with issues and problem solve. It improved my view of the real business world and how issues that corporations face can be solved. Also, Point Park's environment of students, teachers, staff and professors were key ingredients that contributed to reaching my goals. People at and around Point Park made me aware of how we can be different but still share common ground and have mutual respect for each other.
What advice do you have for international students considering an M.B.A. degree?
Point Park will offer you the means to achieve your goals and the opportunity to be what you aim to be as a whole person. It's then the student's responsibility to seize these opportunities in order to achieve his or her dreams. The M.B.A. program is an open gate, allowing students to reach a multidimensional world in which hard work, keen intelligence, adaptation and innovation are key ingredients for success.
More About: alumni, success story, M.B.A., Downtown Pittsburgh