more news
Internship gives student an opportunity to prepare for career in engineering
Friday, July 27, 2012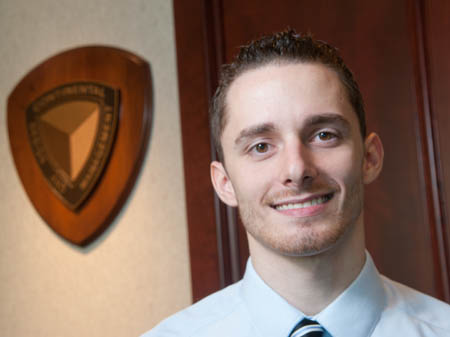 Meet Greg Harbison
Majors: Electrical engineering technology and mechanical engineering technology
Internship: Drafter at Continental Design and Management Group
Expected graduation: Fall 2014
Hometown: Pittsburgh, Pa.
Why did you choose Point Park?
I chose Point Park because it was close to home and offered small classes, which meant plenty of one-on-one time with professors if needed. Point Park turned out to be a great choice, and I couldn't be happier.
Why did you decide to double major in electrical and mechanical engineering technology?
Originally, I attended Point Park solely for mechanical engineering technology. During my junior year, a few electrical engineering technology professors approached me to talk about a possible minor in EET. I discovered I needed about six more classes for a minor in EET and only 11 more for a major in EET. Having a dual major opens up a lot of opportunities, and I felt that it would be a great addition to my education.
How did you land your internship with CDMG?
Midway through my junior year I contacted Santina Frazer, a career counselor at Point Park. I was a little worried about my future and wanted to talk about some options. Within the next couple of months I attended a job fair, and also began receiving numerous emails about internship opportunities. One of these emails was for a possible internship at CDMG. She gave me the contact information of Patrick Rudy, a former Point Park graduate who is now the lead engineer of the piping department at CDMG. We met for an interview and he offered me the internship.
In what ways do you think this summer internship will help you with your career goals?
This internship has opened many doors for my future. It was an opportunity to see what goes on at an engineering management firm and get experience in what I may be doing for the rest of my career. Working at CDMG has been a great learning experience and I've had a good time working there thus far.
What have been your favorite experiences so far as a Point Park student?

I'd have to say the one-on-one time with professors and staff has been the best. They have great availability and are always willing to answer any questions I have. The night and weekend classes are great too. The students in my classes are always very mature.
Is there anything else you'd like to add?
My education at Point Park has been all that I could've asked for. I'd like to say thanks to all of the professors and faculty who have helped me become the person I am today.
More About: Career Development Center, internships, mechanical engineering technology, engineering technology, electrical engineering technology