more news
Funeral Service Major Interns at Medical Examiner's Office
Monday, November 14, 2011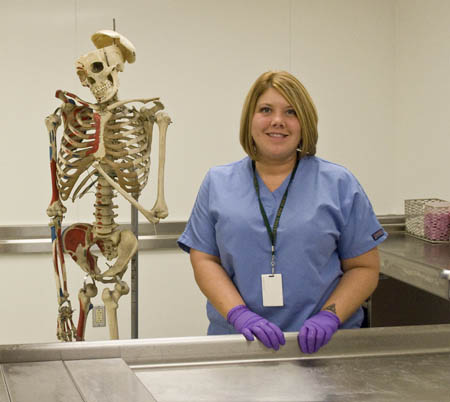 Meet Lin Webb
Major: Funeral service with a concentration in environmental health
Hometown and current residence: Houston, Pa.
Degrees earned: Diploma and associate's degree from Pittsburgh Institute of Mortuary Science
Expected graduation from Point Park: May 2012

Describe your role as an autopsy intern for the Allegheny County Medical Examiner's Office.
Whether I'm collecting specimens for lab work or performing an autopsy, this internship is definitely hands-on. I've learned so much already. So far I have done six cranial autopsies and with supervision and guidance, I have completed several full autopsies. By the end of the internship, I will be able to conduct a full autopsy from start to finish on my own. This internship experience will be a great addition to my resume. I love it at the Medical Examiner's Office.
How did you become interested in the funeral service field?
As early as when I was in elementary school, I found the field of funeral service to be interesting. When my grandparents passed away, my interest in the process of what happens to our bodies after we die grew even more. I've always been fascinated with the anatomy of the human body. Plus, death is a part of everyone's life so funeral service is a field that is not going to go away.
Why did you choose to pursue a Bachelor of Science degree in funeral service?
It's always been a goal of mine to earn a bachelor's degree. After graduating from the Pittsburgh Institute of Mortuary Science, my husband and I moved to Virginia where I worked for several years as a licensed funeral director and embalmer. When we moved back to Pittsburgh, I had been out of school for 10 years and decided it was time to get my bachelor's degree. I believe that a bachelor's degree in funeral service will give me an edge in the field.
What made you choose Point Park?
Point Park came highly recommended by the Pittsburgh Institute of Mortuary Science. I was able to easily transfer in the credits I earned there so that I'll be able to complete my bachelor's degree at Point Park in four semesters. I also liked that Point Park offered Saturday and evening classes.
What's been your favorite class so far?
I really enjoyed "Abnormal Psychology" and "Theories of Personality." So far the classes at Point Park have broadened my horizons and helped me to better understand people and the grieving process. It definitely takes a certain type of personality to be able to talk to someone whose family member has just died.
What are your future career goals?
I'd like to work full time as an autopsy technician for the Medical Examiner's Office or for a funeral home as a funeral director or embalmer.
Is there anything else you would like to tell us?
What I like most about Point Park is that the professors have never made me feel like they are in a rush. They have an "open door policy" and always take time to answer any questions I have. Meeting with my advisor, Assistant Professor Matthew Opdyke, has been great too. He helped me with my internship application process and is always very accessible. Also, I have made friends and learned more about myself just by being a student here at Point Park.
More About: funeral service, transfer