more news
Criminal Justice and Intelligence Studies Chair Named President of Local Black Law Enforcement Group
Thursday, November 8, 2012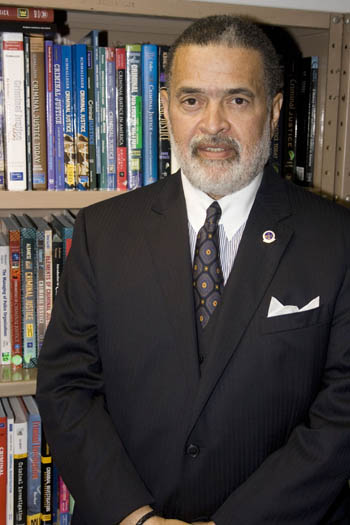 Gregory Rogers, J.D., professor and chair of the Department of Criminal Justice and Intelligence Studies, has been elected president of the Pittsburgh Chapter of the National Organization of Black Law Enforcement Executives. In addition, NOBLE's national president is Point Park University alumna Maurita Bryant, a graduate of the Master of Science in criminal justice administration program.

Rogers and Bryant were recognized at NOBLE's 12th Annual William H. Moore Awards and Scholarship Banquet held at Point Park on Oct. 27. Members of Point Park's Criminal Justice Club, a student organization, also attended the banquet.

Rogers has more than 32 years of experience in the intelligence community. In 2011, he received the U.S.A. Tactical Hall of Fame Lifetime Achievement Award in Intelligence and National Security and is a member of the International Black Belt Hall of Fame.
Bryant serves as assistant chief for the City of Pittsburgh Police, an adjunct professor at Point Park, and is a member of the University's Criminal Justice Advisory Board.
For students, the NOBLE banquet offered opportunities to connect with local law enforcement professionals.

"The NOBLE event was such an awesome collaboration of dynamic leaders in the criminal justice field. It offered an opportunity to meet, greet and network with some influential people," said Kristal Robinson, a senior criminal justice major, Iraqi War Veteran, and member of the Alpha Phi Sigma National Criminal Justice Honor Society.
"Not only were there police officers, detectives and chiefs at the event, but also lawyers, private security managers, CIA agents, state troopers, probation and parole agents, authors, journalists, and many more," Robinson explained. "It's exciting to be a member of the Criminal Justice Club and get real world experiences like this."
Point Park President Paul Hennigan, Ed.D., gave welcoming remarks at the event. In a letter to NOBLE members and friends, Hennigan wrote: "Point Park University, the Department of Criminal Justice and Intelligence Studies, and organizations like NOBLE are on the front line in educating the next generation of law enforcement officials, probation officers, intelligence officers, forensic scientists and federal agents."
The mission of NOBLE is to ensure equity in the administration of justice in the provision of public service to all communities, and to serve as the conscience of law enforcement by being committed to justice by action.
More About: criminal justice, M.S. in criminal justice administration, intelligence and national security, faculty